Drone technology will be promoted in state: Markanda
State's first drone fair organized in Dharamsala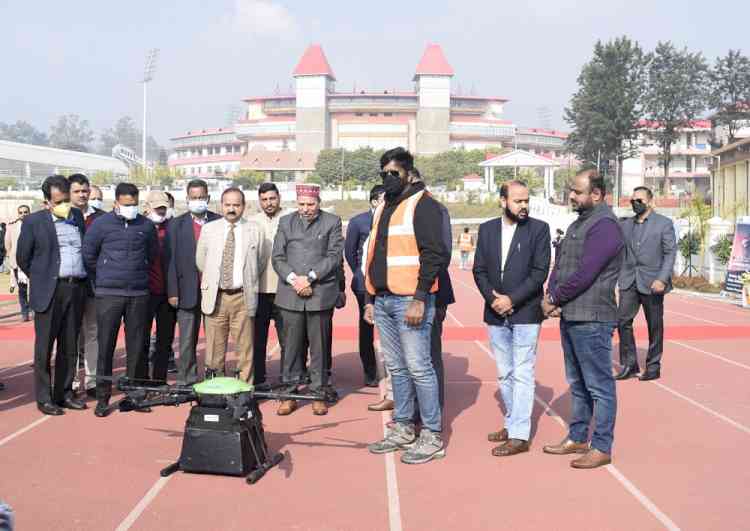 Dharamsala, December 14, 2021: "Effective steps will be taken to promote drone technology in the state. For this training institutes will also be opened, so that the younger generation can get employment in the field of drone technology", said Information Technology Minister Dr. Ram Lal Markanda while addressing the people after inaugurating the Drone Mela at Sai Stadium in Dharamsala on Tuesday.
Dr. Ram Lal Markanda said that drone fairs would also be organized at other places in the state so that people as well as youth could get information about drone technology. He said that drone is a new dimension of modern era technology which can be easily controlled by any person and can also be used for daily tasks. He said that the biggest advantage of using drones is that it not only reduces cost, but also saves a lot of time, as it does not usually face road traffic congestion, as well as the labour cost  of companies could also be reduced due to its use considerably
The state's first drone fair was organized in Dharamsala by the Department of Information Technology in collaboration with District Administration Kangra. In this occasion the medicines were transported from Sai Stadium in Dharamsala to Tanda Medical College by Drones of Sky Air Mobility, its live telecast was also shown. Various products were successfully delivered to the designated locations through these flights. Along with this, Rotor Precision Instrument Limited, Idea fromage Technology, Diabest Journey, Pan India Consultant Drone Destination companies also displayed their flying drones.
On this occasion, Chief Secretary Ram Subhag Singh said that drones can easily reach even those places, where it is relatively difficult or completely impossible for humans to go, so this feature of drones can be used in disaster management. It also makes a good option. He said that in many countries, drones are also being used for agricultural works like spraying of pesticides and taking care of crops etc. He said that drone technology will prove to be very useful for the youth in the coming times and important steps will be taken towards training the youth in this. On this occasion, Joint Secretary Government of India Amber Dubey also discussed in detail the benefits of using drone technology.
On this occasion, Himachal Pradesh Chief Secretary Ram Subhag Singh, Principal Secretary Rajneesh DC Kangra Dr Nipun Jindal, Director Information and Technology Department Mukesh and officers of various departments were specially present.
Another reports says:
Skye Air Mobility's Drone Delivery Technology Steals The Show  at Drone Mela, Dharamshala
Successfully showcased autonomous BVLOS flights equipped with critical healthcare supplies such as vaccines, medicines, and blood packets
Dharamshala, December 14, 2021: Skye Air Mobility, a Delivery by Drones Logistics company from New Delhi recently participated in the Drone Mela at Dharamshala on 14 Dec 2021 attended by Hon'ble IT Minister of Himachal Pradesh, Shri Ram Lal Markanda; Joint Secretary, Ministry of Civil Aviation, Shri Amber Dubey.
Skye Air successfully showcased its capability and products at the Drone Mela.  It demonstrated autonomous BVLOS flight from SAI Sports Ground to Medical College Hospital (Tanda) covering a distance of nearly 12 km (aerial) in Himachal Pradesh. The flights were geared with vaccines and medicines by its customized small category drone named Skye Ship One.
This model has a load capacity of 5 kg with speed of 12 m/s. The range is 20 kms.
Commenting on participating in the Mela, Mr. Swapnik Jakkampudi, Co-Founder, Skye Air said,  "We are extremely delighted with how the event kicked off and our efforts are being recognised and "Made in India" technology being appreciated.
Our endeavour at the Drone Mela was to showcase the efficiency of drones, how life-saving medical items such as blood, vaccines and medicines can be delivered faster as compared to roads.
While we have completed 750 plus successful autonomous BVLOS flights delivering vaccines, food and groceries in the last two months, with events like these we continue to keep the momentum and bring awareness about newer, advanced and cost effective technology."
Further giving details on the autonomous BVLOS flight taking wings on the Mela, Group Captain (Retd.) Mr. Adarsh Sidharth, COO, Skye Air, said, "The flights were equipped with consignments of vaccine and other medicine supplies covering an aerial distance of 12 Kms.
The model Skye Ship One that we showcased at the exhibition are characterized by high performance as well as affordability, reliability and ease of use.
With its successful demonstration, we are confident it will help transform how remote areas are supplied with essential healthcare supplies."
The autonomous drone geared with DAA and UTM technology combined various safety systems. Skye Air had two certified remote pilots who had been specifically trained for the BVLOS trials and were constantly monitoring and in complete control of the aircraft.
"With relaxed policies, liberalizing the use of drones, organising events like these and encouraging start-ups like us to participate, it is a reminder that the corridor of innovation will rain open and drone application will soon be embraced by multiple sectors as it ensures cost efficiency, it is time saving and has the ability to reach remote areas." said Mr. Swapnik Jakkampudi
Skye Air, manufactures and operates drone delivery services. The India based start-up, Skye Air which is fast carving a niche in the drone delivery sector by creating a faster, smarter and environment friendly air mobility solutions. The company is concentrating its effort in designing, developing,and operating various products and services related to drone delivery and allied ecosystem. It endeavours to transform build and operate futuristic transport solutions helping mankind achieve better life. / cityairnews