Drive to curb stubble burning in District Ludhiana kicks off at Village Khaira Bet
Chairman PPCB and Deputy Commissioner, Ludhiana launch the drive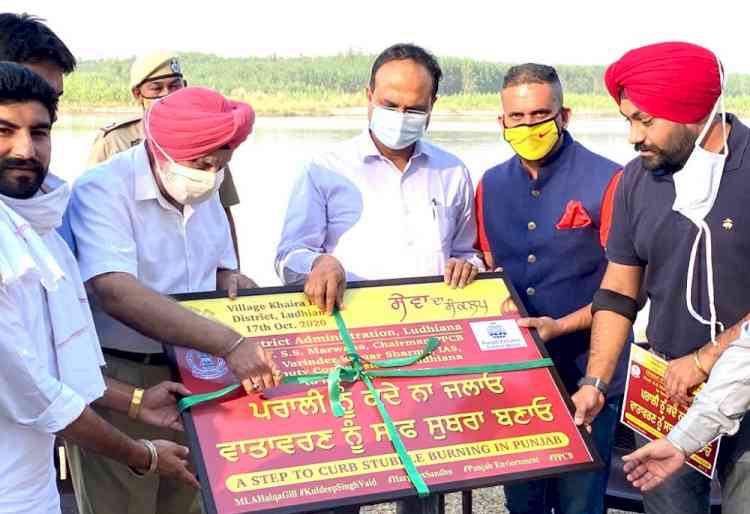 Ludhiana: Due to the burning of paddy stubble leading to health challenge and causing air pollution, particularly during the ongoing Covid Pandemic era. Chairman Punjab Pollution Control Board, Prof. S.S Marwaha, who has taken up this issue of check on stubble burning, enabling to maintain clean environment.
Chairman PPCB, Prof Marwaha along with Deputy Commissioner Ludhiana Varinder Kumar Sharma, IAS, launched a special slogan brochure prepared by city Lawyer Harpreet Sandhu depicting message, "ਪਰਾਲੀ ਨੂੰ ਕਦੇ ਨਾ ਜਲਾਓ, ਵਾਤਾਵਰਣ ਨੂੰ ਸਾਫ ਸੁਥਰਾ ਬਣਾਓ" along with Sandeep Behal (S.E), S.S Matharu (XEN) other PPCB officials and the Sarpanch – several farmers of village Khaira Bet, Ludhiana.
Chairman PPCB Prof. Marwaha addressed the villagers/farmers at Village Khaira Bet that burning of straw has been barred by the State authorities, still some incidents are reported where the crop lying ready has been damaged on account of fire in the fields due to burning of stubble by farmers and urged that it is the need hour for to stop the burning of stubble enabling to maintain clean environment.
Deputy Commissioner, Ludhiana Varinder Kumar Sharma, IAS also urged the respective farmers to abide the rules towards ban of stubble burning enabling to avoid any untoward incident of fire creating loss to the ripen crop as well as soil fertility.
Ludhiana Lawyer Harpreet Sandhu educated farmers towards the legal implications on stubble burning with stringent punishment and heavy penalty for violators, ranging from disconnecting the electric supply to the tube wells of the farmers who burn straw.