Dr Thaman writes to PM and others regarding setting of CGHS Dispensary/CGHS Indoor and Outdoor Hospital at Ludhiana
Says the matter is most urgent as the case involves life and future of the employees/retirees of all central government departments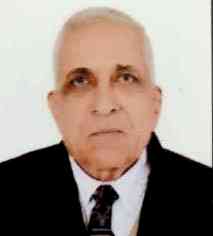 Dr. Satish Kumar Thaman.


Ludhiana: City-based Dr. Satish Kumar Thaman, a resident of Rishi Nagar, Ludhiana has written among others to Prime Minister Narendra Modi, Minister for Communications Ravi Shankar Prasad and Union Health Minister Harsh Vardhan regarding the issue of the setting of CGHS Dispensary/ CGHS Indoor and Outdoor Hospital at Rishi Nagar, Telephone Exchange Ludhiana.
Dr Thaman mentioned in his communication that an English Daily on June 25, 2021 has published a story related to the issue. Besides, City Air News on October 30 2020, June 8, 2021 and June 14, 2021 has also published news reports in connection with demand to open CGHS Dispensary in Mega City of Ludhiana like Jalandhar and Chandigarh.
He has also revealed in his communication that AGM (HR) O/o GMTD Ludhiana in his office letter No.GG/Genl/PG Compt/LDH/22 dated 16.6.2021 has also informed him that, CGHS Clinic and Hospitals in Ludhiana city does not come under purview of GMTD (Ludhiana) and directed him to take up issue at appropriate level.
Dr Thaman pointed out that the matter is most urgent as the case involves life and future of the employees/retirees of all central government departments including DOT/BSNL.
He requested the prime minister and others to intervene and take necessary action on his communications dated 9.6.2021 and 14.6.2021.