Dr Manpreet Singh Lehal of Lyallpur Khalsa College gets first patent registration for college
He got registered his recently developed software 'Extraction of Parallel Data from English-Punjabi Comparable Corpora'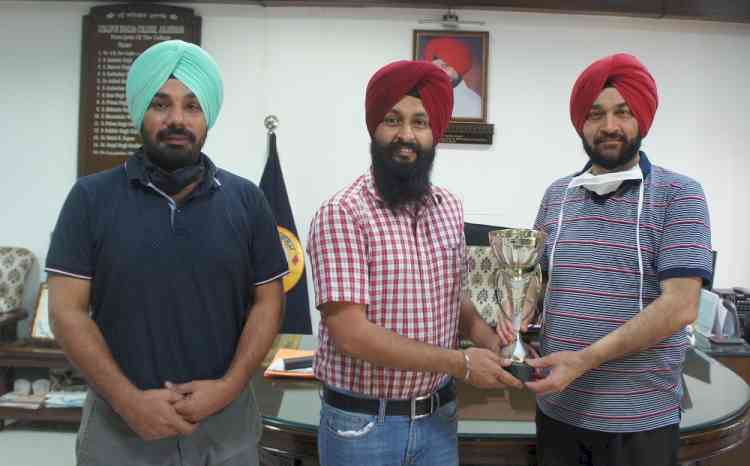 Jalandhar: Equally complementing the accolades drawn by the students of Lyallpur Khalsa College in the fields of Academics, Sports and Cultural activities, the faculty members are also setting new landmarks every day. Bearing a testimony to this, Dr. Manpreet Singh Lehal, Assistant Professor, Department of Computer Science and IT has achieved a milestone in the field of quality research and its implementation by registering his recently developed software 'Extraction of Parallel Data from English-Punjabi Comparable Corpora' under Copyright and Patent Act by Copyright Office, Department of Promotion of Industry and Internal Trade, Ministry of Commerce and Industry, Government of India. 
Principal Dr.  Gurpinder Singh Samra honoured and congratulated Dr. Lehal for his glorious achievement thus bringing a credit to the name of the institute. He remarked that Dr. Lehal is a competent teacher as well as a progressive learner and researcher. He informed that this is a novel achievement for the college and motivated all the faculty members to get their research works patented and copyrighted. He expressed his confidence that Dr. Lehal will continue with his research work and be a source of inspiration for other researchers. 
Giving information about his research and patented software, Dr. Lehal said that this software extracts parallel data from the English and Punjabi text which is a great resource for machine translation from English to Punjabi and vice versa. It aims to improve the efficiency of the existing MT tools.  Machine Translation has increasingly grown in popularity, but it has been far from perfect and this extraction tool aims at improving and enhancing the translation outputs by providing more data for training the translation models. Dr. Palwinder Singh, Dean, Cultural Affairs was also present on the occasion.