Doing yoga pranayamas regularly helps you in getting survived and recovered from covid
Acknowledges Covid warriors of Hero DMC Heart Institute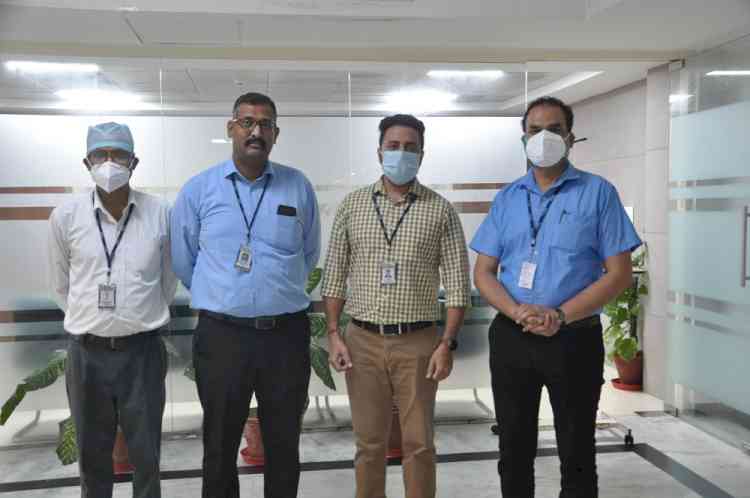 Ludhiana: A brief interaction was held today with few employees of Hero DMC Heart Institute, who got infected by COVID virus and regained themselves with better health through proper medication and regularly doing of 'yogic pranyamas'
42-years old Manish Prabhakar, working as OSD in Billing Department of Hero DMC Heart institute says that inspite of taking all the due precautions, he got infected by COVID virus and had to face a very tough time initially while being in home isolation for full 15 days. In the beginning, he experienced severe body ache and had a very dry and aching cough, which would drain out all his physical energy. He was advised by Yoga Consultant of DMCH Dr Sanjeev Singh Rawat to regularly perform prescribed 'Yoga Pranayams' to get recovered from breathing problem. Within few days of taking both prescribed medication and strictly pursuing of 'Yoga Asanas and Pranayams' daily, Manish felt big relief and with time, got as normal as before.                
The same experience was shared by 30-years old Sorabh, who works as Software Engineer in Computer Cell of HDHI. Sorabh expressed that once COVID virus strikes, it creates lot of physical and psychological set back for the infected patient but one needs to keep ones morale up inspite of being in such grave situation.   

Yoga Consultant- Dr Sanjeev Singh Rawat says that doing  'Yoga Pranaymas' daily has a great effect in getting recovered from COVID infection, as it boosts up the immunity of entire respiratory system and also enhance overall well being, which act as a deterrent for COVID virus badly effecting your health.