Docs at Fortis Mohali treats 68-years-old woman for Spine Tumour
Patient starts walking after being bed ridden for months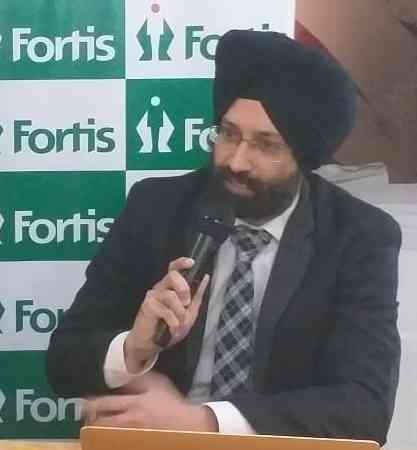 Dr. Harsimrat Bir Singh Sodhi, Senior Consultant, Neuro Spine Surgery, Fortis Hospital, Mohali.


Rupnagar: A team of doctors at Fortis Hospital, Mohali, have successfully treated a 68-years-old woman for Spine Tumour, thereby enabling the patient to start walking after being bed ridden for months. The patient was suffering with severe back ache and weakness in both her lower limbs for months. The treatment was performed by Senior Consultant, Neuro Spine Surgery, Fortis Hospital, Mohali Dr. Harsimrat Bir Singh Sodhi.
 
After completely evaluating the medical condition of the, a spinal Tumor in the Dorsal spine at D 3-4 level was found, which severely compressed the spinal cord. Delay in treatment would have led to complete paralysis (paraplegia). The patient was operated upon by a Neurosurgery Team (Brain and Spine Surgery), led by Dr. Sodhi. Complete surgical removal of the Tumor was done under a microscope, taking utmost care not to damage the overlying spinal cord.
 
Explaining the case further, Dr. Sodhi said that anyone with a spine tumour suffering with backache and lower limb weakness are quite common. "They can be cancerous or non-cancerous with the former more prevalent", he added. He further informed that the patient, Bhama Devi, came to them with lower backache along with weakness in bilateral lower limbs, which developed gradually over 3-4 months.
 
"The patient had difficulty in walking, which led to a bed-ridden status with paralysis of both legs for two months. Over the coming days, the patient also started to lose control over her bladder, with urine leaking continuously. The patient consulted various doctors at her native place, where she was diagnosed with a spinal Tumor and was advised surgery. In view of COVID-19 and non-availability of a specialist at her respective place, the patient came to Fortis Mohali," Dr. Sodhi said.
 
Dr. Sodhi said that the surgery in a sensitive location (where nerves supplying to both legs and urinary system are located) was aided with the help of the latest innovative techniques, including Neuro-Navigation, Intraoperative nerve monitoring (both of which are available at select centers only) and a high-end microscope – all available at Fortis Hospital Mohali.
 
"Post-operation, the patient had recorded marked improvement in her lower limb weakness and she started to walk with support within ten days of surgery. Now, three months after surgery, the patient has resumed her normal daily routine without any support," added Dr. Sodhi.