DMCH observed national nutritional month 
launches a video message to healthcare workers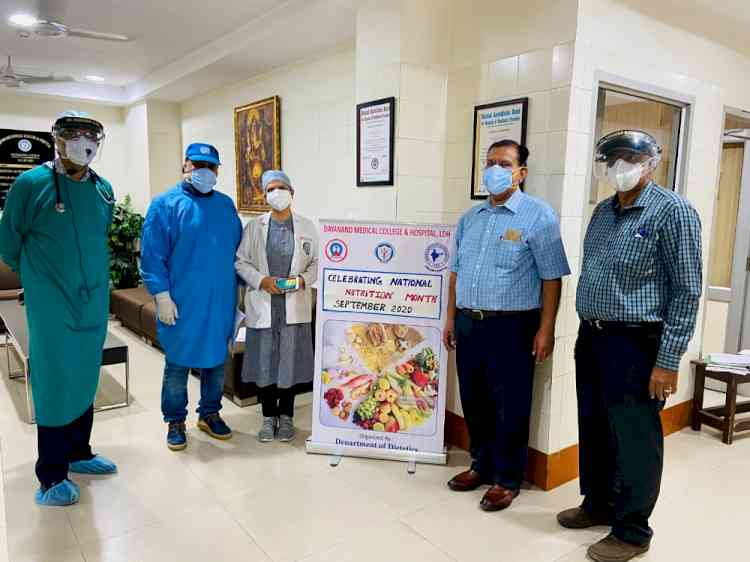 Ludhiana: September month is marked as National Nutrition Month. With the purpose to highlight the importance of healthy diet, DMCH today launch a video pertaining to balanced diet for the healthcare workers who are actively involved in COVID areas.

Health care workers are more venerable to COVID infection than normal healthier population. There are many studies on nutrition status of affected people amid natural disasters or pandemics, but on diet and nutrition statuses of healthcare workers receive little attention.

Those who present on the occasion were Principal Dr Sandeep Puri, Medical Supdt Dr Sandeep Sharma , Dean Academics Dr Rajoo Singh Chinna ,  Dr Sandeep Kaushal Assistant Dean Academics  and Incharge, Department of Dietetics Dr Shweta Batta.

Sh Prem Kumar Gupta, Secretary DMCH Managing Society lauded the efforts of Department of Dietetics for giving this valuable information for the healthcare workers who are working during this  pandemics. DMCH is actively participating in spreading the awareness and educating  the general public about health issue during this COVID time.

Dr Sandeep Puri Principal DMCH said that due to this pandemics, frontline healthcare workers have a small window of each day in which to eat and drink, so it is especially important for them to focus on nutrients that both satisfy their hunger and meet their nutritional need.

Dr Rajoo Singh Chinna Dean Academics and Ex Secretary NSI said that the balanced diet and intake of immune boosting foods are mandatory for the well being of healthcare workers. Long duty hours, wearing of personal protective equipments, dehydration, mental exhaustion, physical exhaustion are the few common outcomes of in the pandemic.

According to Dr Shweta Batta, Incharge Department of Dietetics- Health workers should take care of their overall physical & Mental Health. Daily diet has great influence on the health of medical workers, especially during the response period with heavy work load and physical and mental exhaustion. A nutritious balanced meal can ensure a healthybody and a stronger immune system which can help fight infections

DMC Health education and Department of Dietetics issued a circular advisory on the health and nutritional needs of the personals who are actively involved in COVID19 areas.

A video talk emphasizing the need for balanced diet, multi vitamins, supplement especially zinc and vit c, fluid intake to avoid dehydration, regular physical exercise  and  proper sleep, Vitamin-D supplements was launched. On the occasion was shared  with all the healthcare workers.