DMCH Doc chaired prestigious Oration address held at IGIMS, Patna
The oration function was held on institute's 38th foundation day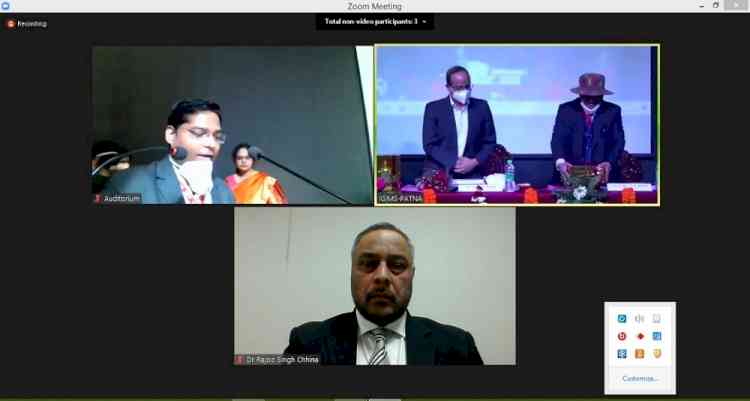 Ludhiana: The prestigious "6th Institute Day Oration" was held in Indira Gandhi Institute of Medical Sciences, Patna on the topic 'COVID 19 pandemic & ICMR'
ICMR stands for Indian Council for Medical Research which is the apex bio medical research institute in the country
The oration function was held on institute's 38th foundation day. On the occasion, Dr Rajoo Singh Chhina (Dean Academics & Professor of Gastroenterology, DMCH) chaired the session and mentioned that Indian Council of Medical Research (ICMR) has played a very pivotal role in speeding up the trial process of making COVISHIELD vaccine to make it available for front line health workers and other people and very soon, will be available for the general public.  Citing the size of the domestic pharma industry Dr Chhina expreses hope that   "India is well-known as the pharmacy of the world and also supplies 60% of the world's vaccines, whether it be Africa, Europe, south east Asia or anywhere. So, any vaccine candidate that's produced or developed in any part of the world will ultimately have to be scaled-up in India or by China because these are the two major vaccine producers of the world," said Dr Chhina, while adding that several developed nations are in touch with Indian entities for vaccine distribution.
 
Dr Simran Panda, Head, Division of Epidemiology & Communicable Disease, ICMR New Delhi delivered the oration on "National Expert Group on Vaccine Administration for COVID-19." In his oration address, he said that COVID vaccination programme was one of the world's largest immunisation programme   conducted by Government of india. He said that merely vaccine does not prevent spread of pandemic but vaccination does.
Dr Rajoo Singh Chhina said that success of Vaccination Programme in India depends on following Ps including People, Physicians, Political Will, Perseverance and Hardwork.