DMCH Cancer care center in collaboration with AOI launches "Nyla" 
Movement for early detection of cancers in woman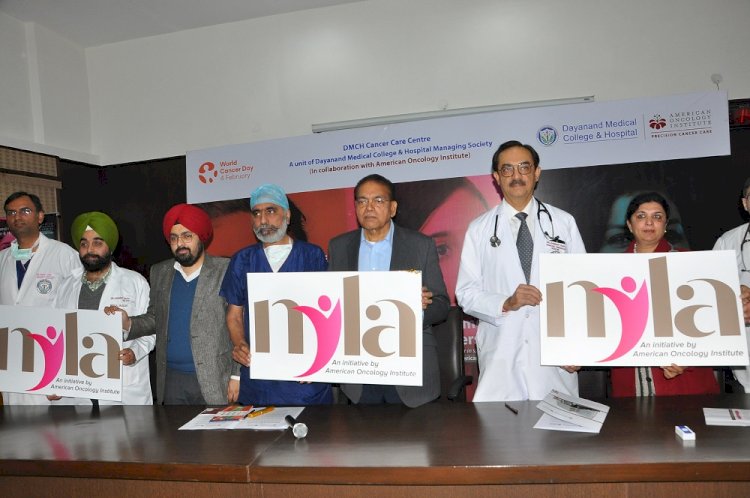 Ludhiana: Since the inception of DMCH Cancer care center in collaboration with American Oncology Institute(AOI), our emphasis has always been on giving the quality treatment and quality services to our patients at affordable cost, and we are proudly doing so on a continuous basis. Since its inception in April 2017, DMCH Cancer Care Center in collaboration with American Oncology Institute(AOI), more than 11000 cancer patients have shown confidence in us by getting treatment over here which gives us the motivation for moving further by adding more treatment facilities like bone marrow transplant.
 
Said Shri Prem Kumar Gupta, Secretary, DMCH, Ludhiana, adding, "We have the most advanced Center for Cancer treatment wherein all the clinical complexities can be dealt with and patient need not to move out of the city just for the want of special expertise . For treatment with radiation therapy we have one of the most advanced radiation machine i.e.True Beam and Brachy therapy and we have recently  started "Bone marrow transplant" program which makes us the top most cancer center in north India.
 
Dr. G S Wander, Chief Cardiologist & Vice Principal, DMCH said, "We have the largest team of Oncologists - 3 Surgical Oncologists , 3 Medical Oncologists, 2 Radiation Oncologists  and 1 Onco Hematologist ( Bone marrow transplant expert) along with 1 Nuclear Medicine specialist".
 
Dr. G S Brar,  Prof & HOD - Surgical Oncology, DMCH Cancer Care Center said, " In our center we do the most advance surgical procedures covering the entire set of organs including many minimally-invasive and limb salvage procedures (LSS) and reconstruction techniques".
 
In India, around 5.8 lakh new cases of cancers were diagnosed in women in 2018. Breast cancer accounts for 25-32% of all female cancers. Cervical cancer is the second most common cancer and accounted for 16.5% of newly diagnosed cancer cases in women in the year 2018. Ovarian Cancer is the third leading cancer and accounted for about 6.2% of all cancers among women in our country. Breast (27.7%) Cervix Uteri (16.5%) Ovary (6.2%) and Colorectum (3.4%) cancers together account for more than half of all cancers in women. Many of these cancers can be detected early and are highly curable in early stages. Therefore, it is important to step up and educate our community about cancers in women.
 
Awareness and early detection is the key to fight against cancer. Only 1% of women in india undergo any sort of cancer screening process in a period of 2 years.It is the need of the hour to spread awareness about Cancer among women.
 
Dr. Jagprag Singh Gujral, Group CEO-South Asia, American Oncology Institute expressed, "There is a rising incidence of cancers in India. Breast, cervical, ovarian, uterine and colorectal cancer together account for more than 50% of cancers in women. AOI believes that every woman is a fighter, and most will emerge victorious in such difficult times if they have access to knowledge, guidance and support. Cancer awareness and early detection programs are key to this theme. NYLA will be an all- encompassing resource for women to understand, diagnose and treat cancer the right way. NYLA will extend all the benefits of AOI's rich pedigree in precision cancer care -clinical expertise, recent advances in technology and committed care- to equip, support and lead them in this fight against cancer"
 
While introducing " Nyla", Dr. Sandhya Sood, Sr. Radiation Oncologist, American Oncology Institute, Ludhiana said,""The word "Nyla" means a winner. NYLA will be an all-encompassing resource  to know, diagnose and treat Cancers in women the right way. NYLA will extend all the benefits of DMCH Cancer care center in collaboration with AOI's American pedigree of cancer excellence - expertise, technology and committed care - to women and partner them in their fight against cancer by early detection of cancer, for a cancer free tomorrow".
 
"Nyla" is an exclusive early detection awareness campaign for all women related cancers namely Breast Cancer, Cervical Cancer, Ovarian cancer and Uterine cancer.