District level export promotion committee meeting held in Ludhiana
Auto parts, hosiery and knitted and readymade garments, woollen products and shawls, bicycle, hand tools and cotton yarn selected as five core sectors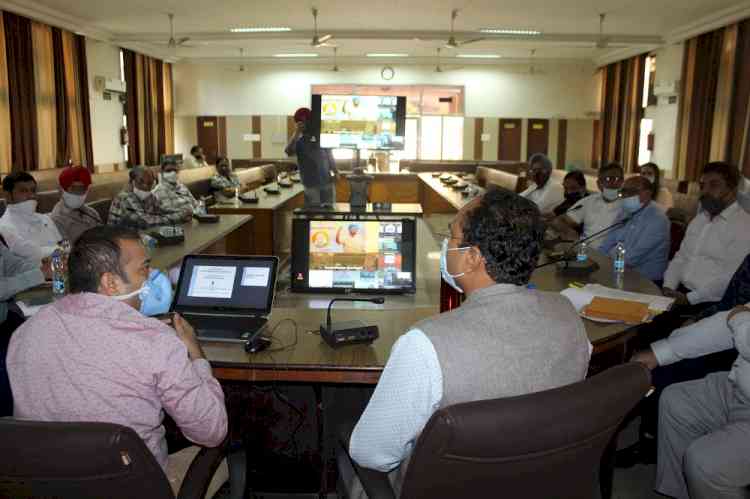 Ludhiana: Aiming to transform the Ludhiana district into an export hub, a district-level export promotion committee held an interaction meeting with leading industrialists of the district to discuss five core export sectors.

The meeting, presided over by Joint Director General of Foreign Trade, Ministry of Commerce and Industry, Government of India Suvidh Shah was held in the presence of Deputy Commissioner (DC) Ludhiana Varinder Kumar Sharma at Bachat Bhawan here on Friday.

Joint Director Suvidh Shah has also presented the draft presentation of Ludhiana District Export Promotion Plan 2020-2021 with the industrialists and asked for suggestions from the industrialists.

After a healthy discussion, five sectors including Auto Parts, Hosiery and Knitted and Readymade Garments, Woollen products and Shawls, Bicycle, Hand Tools and Cotton Yarn were selected as export products.

Deputy Commissioner Varinder Kumar Sharma, interacting with the media said that the interaction was organised by the Joint Director General of Foreign Trade from Ministry of Commerce and Industry to select five core sectors to make Ludhiana district an export hub. He said that after implementation of this plan, the Ludhiana industry will get a boost.

Meanwhile, Deputy Commissioner said that the Punjab Government has also been constantly taking up the issue of setting up the Textile Park in Koom Kalan with the Central Government.

On the occasion, Deputy Director General of Foreign Trade Navtej Singh, General Manager District Industrial Centre Mahesh Khanna, FIEO Vinay Sharma, Gurmeet Singh Kular, SC Ralhan (Sri Tool Industries), Harish Dua (K.G.Export), Rahul Ahuja (FIEO), Darshan Dawar (Knitwear Club), Charanjit Singh, Vinod Thapar (Knitwear Club), Mridula Jain (Shingora International Ltd) among other prominent persons were present.