District Bureau of Employment organizes seminar for UPSC aspirants
The event held on the directions of Amrit Singh, Deputy Commissioner- cum- Chairman District Bureau of Employment and Enterprises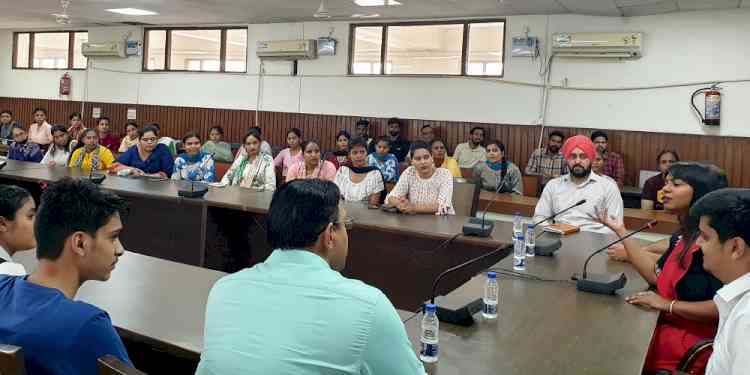 Ferozepur, June 13, 2022: On the directions of Amrit Singh, Deputy Commissioner- cum- Chairman, District Bureau of Employment and Enterprises, Ferozepur, DBEE held a seminar to guide the students who aspire to crack UPSC to join premier services. 
The Deputy Commissioner welcomed the aspiring candidates in this seminar. The newly- appointed IPS Officer Umesh Goyal, who was serving as a BDPO in Punjab Government, was the chief guest during the occasion. He interacted and guided the students. He shared his valuable tips about how to prepare for the test. He said that in order to do any work we first have to prepare ourselves fully and make ourselves so much capable that we do not deviate from our goal in spite of millions of difficulties. He further shared how he kept preparing for the coveted UPSC services even after joining the state government as BDPO. He answered the questions of the students in a very positive and detailed manner. The students thanked the dignitaries and requested the Deputy Commissioner to conduct such seminars in future also, so that they would be guided throughout about the right path for a brighter future. The Deputy Commissioner asked all the students to keep in touch with the District Bureau of Employment and Enterprises for all oind of assistance about career guidance and placements. 
On this occasion Additional Deputy Commissioner (G), Maj (Dr) Amit Mahajan PCS also guided the children and wished them a bright future.
Gurjant Singh Placement Officer, Navdeep Asija Training and Placement Manager, Manjit Kaur Manager, PSDM, Raj Kumar and Dr. Gurpal Singh Rana DCM were present on the occasion.