District Administration to start special vaccination drive from April 1: Ashu
Under this drive, vaccination of maximum number of people would be done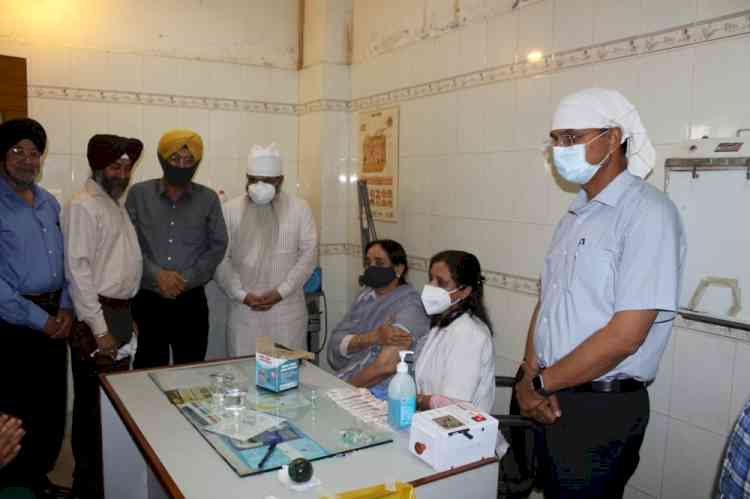 Ludhiana: Punjab Food, Civil Supplies & Consumer Affairs Minister Bharat Bhushan Ashu today informed that for the benefit of residents, a special vaccination drive would be started in district Ludhiana from April 1, 2021, onwards. He said that under this drive, District Administration Ludhiana would be organising special camps in different areas of the city, as vaccination is already going on smoothly in more than 80 private and 71 government hospitals.
He said this while chairing a meeting held in this regard at Bachat Bhawan, here today. This meeting was also attended by Deputy Commissioner Varinder Kumar Sharma, ADC (D) Sandeep Kumar, MC Councillor Mamta Ashu, Civil Surgeon Dr Sukhjeevan Kakkar, District Immunisation Officer Dr Kiran Gill, CICU President Upkar Singh Ahuja, General Secretary Pankaj Sharma, Dr SB Pandhi, besides several others.
During the meeting, the Cabinet Minister said that under 'Vaccine at Doorsteps' drive to inoculate a larger population in a short period to break the transmission chain of virus, special camps would be organised in all areas of the district. He informed that first such camp was organised with the efforts of Mamta Ashu, first such camp was organised in Partap Nagar area of city on March 26, yesterday two such camps were organised and today 8 such camps have been organised in Ludhiana. He said that more such camps would be organised in the coming days as well.
    He informed that a large number of people are coming forward for organising such camps in their respective areas, which is a positive signal. He said that earlier, residents were shying away from receiving the jab but now with vaccine is being administrated near to the homes of the people, they have welcomed the move and coming in the large number.
    Deputy Commissioner Varinder Kumar Sharma added under the 'Vaccine at Doorsteps' initiative, there is no need to go and stand in the queue at the vaccination centre as now health teams will visit particular area/factory/village/residential society or private and commercial establishments for which the need is just to dial up administration for vaccination camp in their localities or premises.
Deputy Commissioner disclosed that the district administration will send the health teams to vaccinating all eligible at all places from where it would receive the call. Urging the people to shun hesitance and embrace the vaccine, Sharma stressed that our scientists have left no stone unturned to develop the vaccine and accepting it social responsibility towards the nation, we should get the vaccine at the earliest to save the precious lives from the pandemic.
He said when there was no vaccine, people were drying in large numbers and praying for vaccine and now the vaccine is here, the people must come forward to get a jab to win the war against the pandemic. He informed that residents can contact their MC Councillor/Sarpanch, area SDM, senior District Administration officials, Civil Surgeon office etc for organising a camp in their respective areas. He also said that residents can also send a query on the official Facebook page of District Public Relations Officer Ludhiana regarding the camp.
Later, the Cabinet Minister also visited the ongoing camps at Gurudwara Shri Guru Singh Sabha Sarabha Nagar, at KDM School on Gaushala Road in Haibowal and interacted with the residents.