District Administration sets up 199 grain markets to ensure phase-wise wheat procurement in Ferozepur: DC
Says, elaborate arrangements were made to conduct smooth wheat procurement and facilitate farmers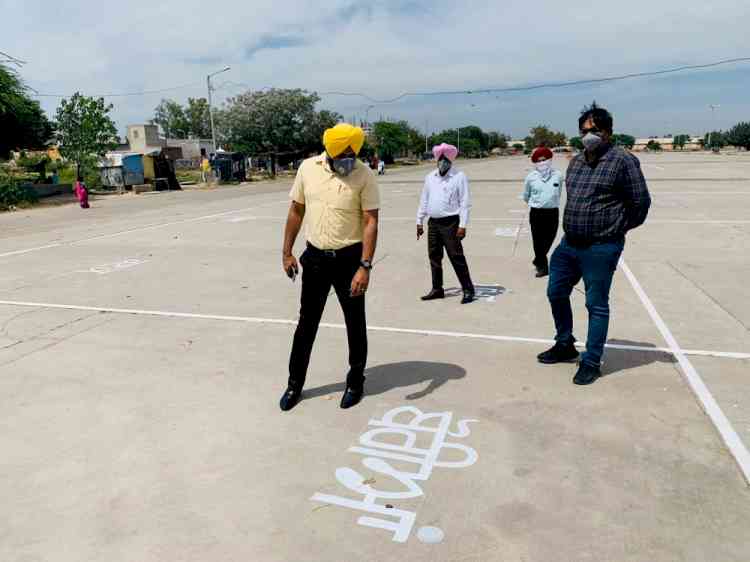 Ferozepur: To oversee the preparedness of wheat procurement in the district, Deputy Commissioner Ferozepur Mr. Kulwant Singh on Saturday visited the Talwandi Bhai grain market and hold a meeting with all the stakeholders including Aartis, officials of the market committee, mandi board and food and civil supplies department.
Divulging the details, Deputy Commissioner Mr. Kulwant Singh said that in the wake of Corona Virus pandemic special arrangements have been made in the grain markets and procurement would take place under the norms of social distancing.
Mr. Kulwant Singh said that to avoid crowd-building in the Mandis as many as 68 new grain markets have been set up in the district this year subsequently the procurement would take place at the 199 Grain Markets instead of 131. Notably, there were about 650 villages in the district which were divided into the clusters and each cluster was linked with the nearest grain market to ensure a hassle-free procurement, said the deputy commissioner.
The deputy commissioner further stated that the procurement would take place in a phase-wise manner and one-third farmers would get the curfew passes to sell their crops in the first phase and the rest of the farmers will get the passes in a similar pattern.
He asserted that the lifting would be ensured within 48 hours of the arrival of the crops and the special circles of 30X30 feet diameter were marked in the Mandis besides special marking for farmers, placement of fans, gunny bags of wheat grains and for laborers to ensure social distancing in the Mandis.
Mr. Kulwant Singh reinforced that the state government was committed to purchasing the crops however it was imperative to strictly practice the social distancing at the same time so that the spread of this deadly virus could be prevented. He urged the farmers and commissioner agents (Aartis) to follow the guidelines issued by the state government so that status of the corona-free district could be maintained in the Ferozepur while reiterating that the district administration would leave no stone unturned to facilitate the farmers in these difficult times.