District Administration gives healing touch to 10 migrant labourers by paying Rs 37000 for their bi-cycles
Employer sells them bi-cycle against their wages, railways authorities forbid the carriage and administration pays the amount to each migrant labourer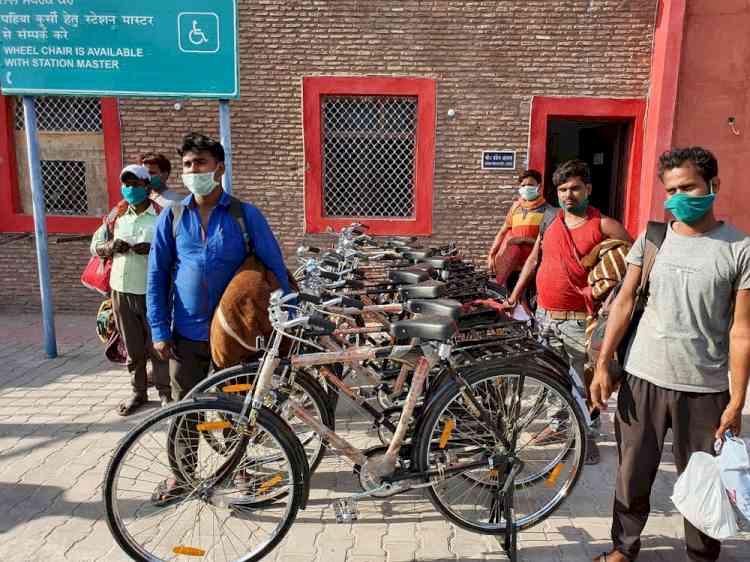 Ferozepur: In a healing touch to ten migrant laborers, the district administration on Sunday bought their bi-cycles for Rs. 37,000 who were unable to carry them along with them on the train. After receiving the full amount of their bicycles, all the laborers boarded the train with a smile on their faces.
Revealing their story, the migrant laborers said that they came from Kotkapura to board the Shramik Express at Ferozepur Cantt railway station on Sunday. They said that their employer while settling their salary dues sold them bi-cycles at Rs. 3700 each. Left with no choice, they had to buy the bicycles and left for Ferozepur district.
 
One of the migrant laborers, Swarnjeet Kumar said that after reaching the Ferozepur Cantt railway station they were shocked as railway authorities didn't allow them to carry their bicycles along with them. They were asked to travel without the cycles, which they had bought for Rs. 3700, said the Swarnjeet Kumar. He said that he met the Deputy Commissioner Ferozepur Mr. Kulwant Singh and SDM Ferozepur Mr. Amit Gupta who were also present at the railway station adding he apprised them about the plight of migrant laborers.
 
Giving a big relief, the district administration decided to buy all the ten bicycles at a price with was paid by the laborers i.e. Rs. 3700 for each cycle and paid a sum of Rs. 37,000 cash to all the ten migrant laborers. Swaranjeet Kumar said that it was just because of the administration's help they were able to board the train and now would reach their home with Rs. 3700 extra in their hands. He said that they never needed the cycle but they were forced to buy them however the district administration delivered the true justice. "Now we are leaving for our homes cheerfully and will never forget the help of district administration Ferozepur in our life", said the passenger.