Disregarding party affiliation, Cabinet Minister Kuldeep Singh Dhaliwal felicitates Congress sarpanch for launching a crusade against drugs in her village
Any one working for the betterment of society will be honoured, irrespective of their party: Kuldeep Dhaliwal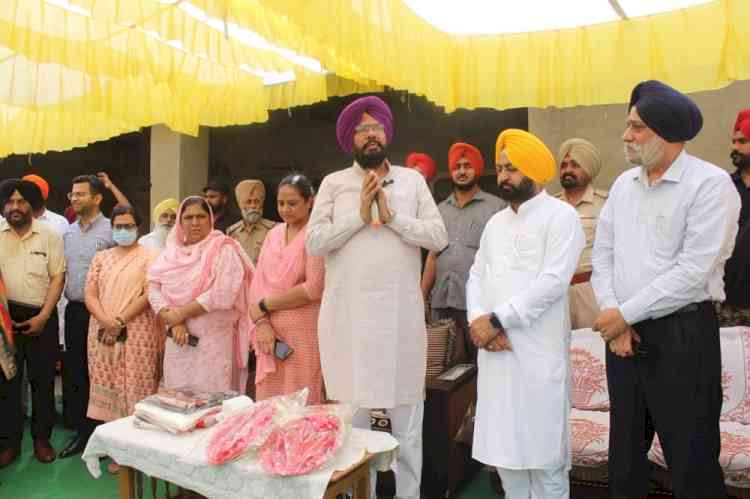 Source: IANS
Mandiani (Ludhiana), August 19, 2022: Punjab Rural Development, Panchayats and Agriculture and Farmers' Welfare Minister Kuldeep Singh Dhaliwal on Friday felicitated Mandiani village sarpanch Gurpreet Kaur of Congress party for launching a crusade against drugs in her village of district Ludhiana. 
He said Gurpreet Kaur had become an inspiration for others for taking on drug abusers and working to eradicate the problem in her village. 
Acknowledging her work against social maladies, Dhaliwal said that even though a person might be from another political party, like Gurpreet Kaur who belongs to Congress party, if they are working genuinely for the betterment of society they will  be honoured by the Bhagwant Mann-led Punjab government. 
He assured fulsome support and cooperation to the panchayats for wiping out drug menace and assured comprehensive development of the villages..

Accompanied by MLAs Sarvjit Kaur Manuke, Hardeep Singh Mundian, AAP senior leader Dr KNS Kang and others, the Minister said that the Punjab Government was making earnest efforts to eliminate drug menace from the state and a war was already on against this social evil.
He said that under the visionary leadership of the Chief Minister Bhagwant Mann, the government was committed to ensure holistic development of state and massive efforts were already on foot to make Punjab front ranking state in every sphere. He said that the state government had already fulfilled many poll promise made with the people including 300 units of free power per month to power consumers, Aam Aadmi Clinics, government-run Volvo bus service to Indira Gandhi International (IGI) Airport, New Delhi, war against gangsterism within five-months of forming government. 
He said that the state government had been giving special attention towards health and education and had also increased the budget of both departments to facilitate the people. 

The Cabinet Minister also extended wishes on the occasion of Janmaashtami and exhorted people to follow the path of virtue shown by Lord Krishna. 
Prominent among present on the occasion included Deputy Commissioner Surabhi Malik, SSP Ludhiana Rural Harjeet Singh, SDM Vikas Heera and others.