Discrimination on basis of colour, religion, caste and gender condemned
AITUC and Social Thinkers Forum hold joint seminar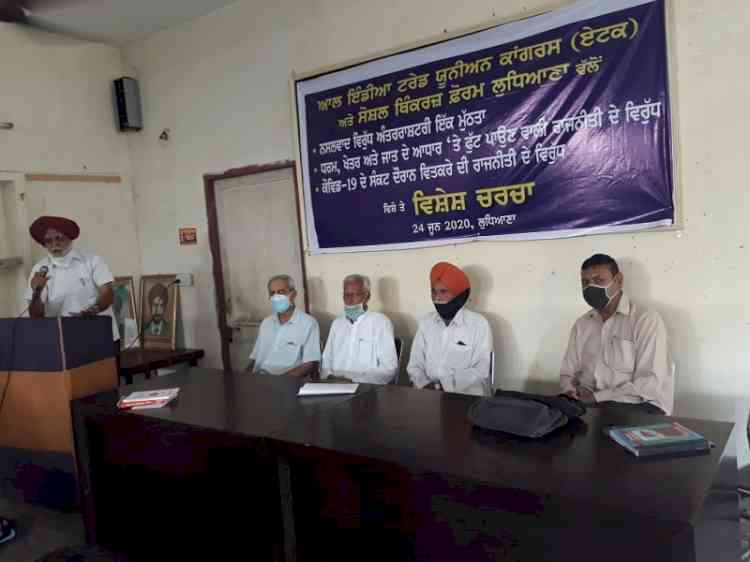 Ludhiana: George  Floyd was killed in  the racial violence by the police in USA. Anguished with his killing people  around the world are protesting in large  numbers. The All Indian Trade Union Congress (AITUC) and the Social Thinkers Forum (STF) Ludhiana held a solidarity meeting here yesterday. In this interactive session the speakers out rightly rejected  discrimination on the bases of  colour, religion, ethnicity, region, caste, creed, gender or socio economic status. Such discrimination is against the basic tenets of human values. Unfortunately such forces  have raised their head in our country in the past few years. These pose threat to integrity and social cohesion which form the bases of modern India as envisaged by our freedom fighters. Unfortunately even during the extreme health emergency  of COVID-19 such forces are active unashamedly. We have witnessed the death of small children, women and elderly while trying to migrate on foot to their native places thousands kilometers away. The insensitivity of the government is apparent from the fact that despite there being a reserve stock of nearly 8 crore metric tonne of food grain not a single grain was released to the people facing hunger during this crises. Instead the spread of Corona virus has been attributed to certain religious groups and efforts have  been made to spread hatred on communal  lines.   All this is against the constitution of India which gives equal right to life to all the citizens in the Article 21 of the constitution. 
The speakers highlighted that this is a time to struggle to save the basic human values of life and brotherhood which are being eroded by those in powers in the last six years. 
"We have to defend our constitution based on the principles of secularism and democracy", said Dr. Arun Mitra, Charan Sarabha, D.P.Maur, Ramesh Rattan and Chamkaur Singh who took part in discussions. 
The others who were present include Vijay Kumar, Kewal Singh Banwait and others.