DIG Ludhiana holds meeting with Range SSPs and other officials
Directs to increase vigil in their areas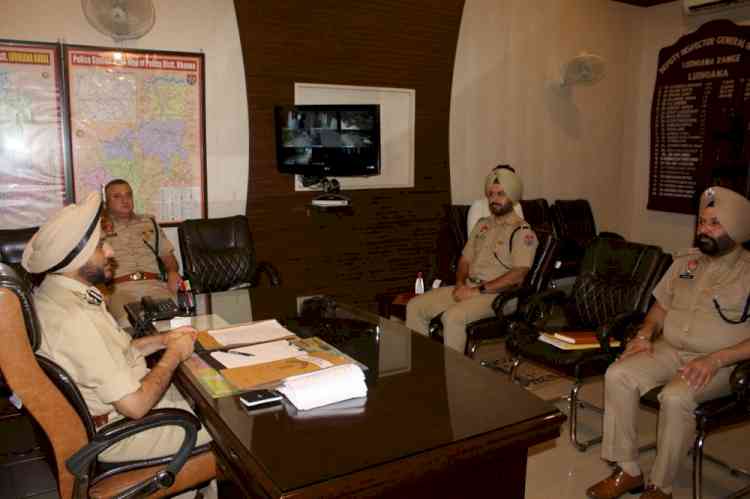 Ludhiana, August 26, 2021: Deputy Inspector General of Police (DIG) Ludhiana range Gurpreet Singh Bhullar on Thursday held a review meeting with three Senior Superintendents of Police (SSPs), other range officials and directed them to make full-proof security arrangements in their respective areas.
Presiding over a meeting with SSP SBS Nagar Harmanbir Singh Gill, SSP Jagraon Gurdial Singh, SSP Khanna Gursharan Singh and others, DIG Gurpreet Singh Bhullar told them to take all preventive and precautionary measures in the maintaining the law and order in their areas.
He stressed upon the need of night domination drives specially led by police chiefs, sealing of entry points of the cities, intensive checking and nakas and asked them to supervise the situation round the clock beside hold daily meetings for effective measures. 
DIG said that special security arrangements must be made in prominent places, such as crowded markets, etc.
He added that special focus must be laid to ensure prompt response from the Police stations and PCR or Rural Rapid Response team to any call made by the people regarding crime or mishap. 
Besides, he asked them to give top-most priority in addressing the grievances of the people and ensuring justice to them promptly. 
Bhullar said that vigilance must be stepped up in their areas and asked the senior officers to themselves monitor the nakas in their areas. Further, he asked officers to tight noose around the anti-social elements by keeping a close tab over their activities besides ensuring monitoring of criminals on bail.
He said PCR and Rural Rapid Response teams must ensure that response to any call made by the people regarding crime or mishap swift and immediate. 
DIG said that everyone must discharge duty their efficaciously so that people must have faith in the working of the police.
Bhullar said that any sort of laxity was unwarranted and undesirable.