Dialysis patients attend talk on kidney disease
Dr. Udham Singh, senior nephrologist spoke about significance of dietary habits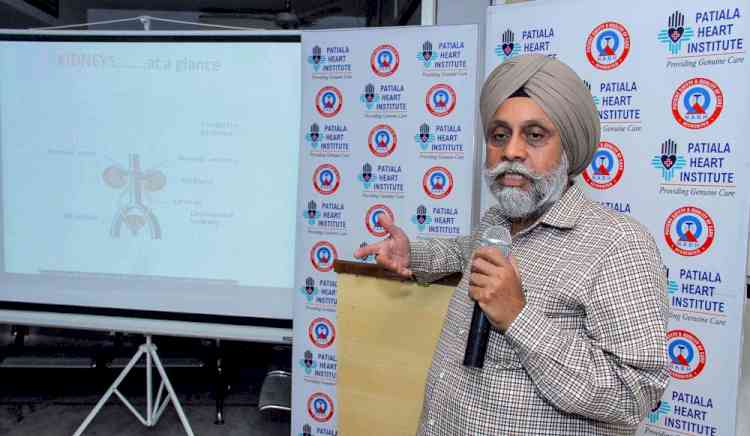 Patiala: Dialysis patients attended an awareness health talk on kidney disease to mark World Kidney Day at Patiala Heart Institute here Friday.
In talk, Dr. Udham Singh, sr. nephrologist spoke about the significance of dietary habits in maintaining kidney health along with tips and prevention measures to keep the kidneys healthy.
He highlighted the knowledge on treatment modalities, diet and lifestyle management besides talking on common queries like who can donate kidney, what should be the frequency of dialysis and dietary advice.
 
Talking about the growing menace of kidney disease, he said that kidney failure cases are rapidly rising. Kidney failure or end-stage kidney disease is a condition, in which both kidneys are permanently damaged and can no longer perform their primary function of filtering toxins, wastes and extra fluids from the body.
The quality of life is better after dialysis, pointed out Dr. Singh. It's a procedure that can help patients with end stage renal disease to increase quantity and quality of life. It also offers cure from kidney failure. With regular dialysis a kidney patient can live an active, healthy and independent life, he asserted.
Dilshad Singh Sidhu , COO of  Patiala Heart Institute said that we have further upgraded our dialysis unit with an association with Fresinius Medical Care. The state-of-the-art dialysis unit is providing 24X7 dialysis services and comprises of a highly experienced team of dialysis technicians and senior nephrologist, he informed.