Diabetes Awareness Programme was organised at Medical OPD CMC & Hospital
To increase awareness about Diabetes as it is one of leading cause of disability and death in India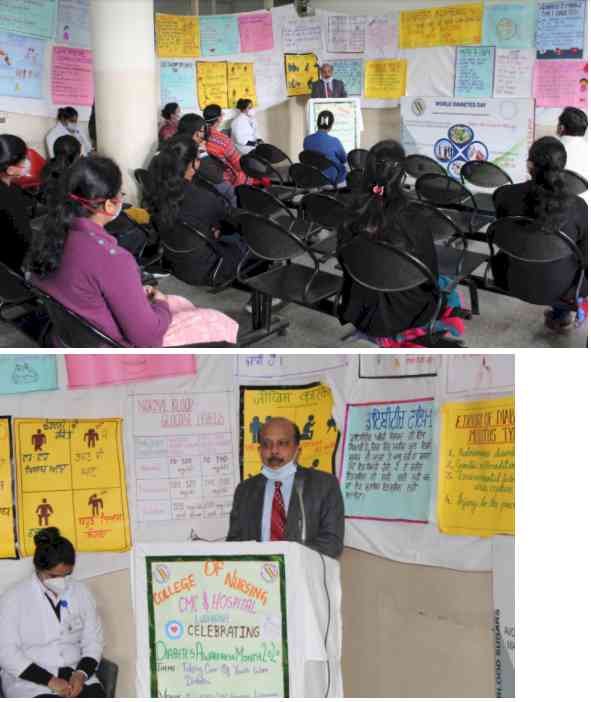 Ludhiana: Diabetes Awareness Programme was organized at Medical OPD CMC & Hospital Ludhiana, on 26th November, 2020, to increase awareness about Diabetes as it is one of leading cause of disability & death in India. The month of November is observed as 'National Diabetes Awareness Month' to raise awareness on the theme "Take Care of Youth with Diabetes". National Diabetes Month was established forty four years ago in 1975. 
The Medical Surgical Nursing Department of College of Nursing, CMC & Hospital has taken the lead in organizing the Diabetes Awareness Programme under the guidance of Dr. Reena Jairus- Professor & Principal, College of Nursing. Dr. William Bhatti, Director, CMC & Hospital, Ludhiana graced the occasion with his presence. He appreciated the hard work done by the faculty & students of College of Nursing and emphasized that we should educate the community regarding diabetes & encourage them for regular follow up. After devotion Dr. Reena Jairus welcomed the gathering and expressed that November is the National Diabetes Awareness Month, a time when communities across the country team up to bring attention to diabetes. Mrs. Ritu P. Naihar, H.O.D. Medical Surgical Nursing Dept. unfolded the theme. She expressed that youth who have diabetes need support & care. It is important to help a child or teen develop a plan to manage diabetes. Some tips to consider for youth's diabetes self-care plan are 1) Manage blood glucose levels. 2) Encourage healthy habits. 3) Stay prepared for emergencies. 4) Monitor for diabetes complications. 5) Seek mental health support. For the youth suffering with diabetes should carry a basic "go-kit" which could include medical supplies and equipment (at least a week's worth), emergency and health care professional contact lists, a medication list, including doses and dosing schedules, and an allergy list and face coverings, hand sanitizer, and disinfecting wipes may also be added to your "go-kit" during a pandemic.
M.Sc.(N) 1st year, 2nd year and B.Sc.(N) 2nd year students performed various supervised activities like poster exhibition on Diabetes Mellitus. They taught about foot care to prevent diabetic foot. General public, patients, their relatives, staff and employees found the program very interesting, educative & appreciated the hard work put in by the teachers along with students.  Staff, patient and visitors vowed to prevent & control diabetes for protecting their future!