Development of govt schools and aanganwari's in district should be main agenda: Varinder Kumar Sharma
Issues strict instructions to BDPOs and other concerned officials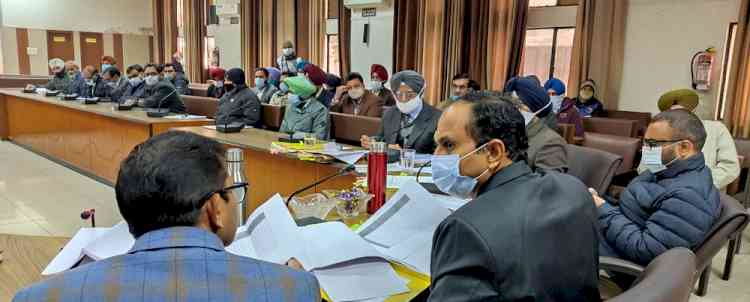 Ludhiana: Deputy Commissioner Ludhiana Mr Varinder Kumar Sharma today directed the BDPOs and other concerned officials to ensure that all development works related to government schools and Aanganwari's in district Ludhiana should be carried out on priority basis.
    He said this while chairing a monthly review meeting of development works being carried out by all government departments at Bachat Bhawan, here today. Additional Deputy Commissioner (Development) Mr Sandeep Kumar, besides several other senior officials were also present on the occasion.
    During the meeting, the Deputy Commissioner directed all BDPOs and other concerned government officials to ensure that development works related to schools should be completed on priority basis in a time bound manner. He also said that the Punjab government is committed to providing best education facilities to the students of government schools and no lapse in this regard would be tolerated. He also directed the officials to focus on development of Aanganwari's, toilet blocks in villages along with other civic amenities.
    He also directed the officials to ensure that maximum number of people are benefited from the government welfare schemes, and for this purpose, awareness camps should be organised in the district.
    He also reviewed the progress of boundary wall of upcoming International Airport at Halwara, upcoming toilet blocks, Sakhi one stop centres, Southern Expressway, besides several others.
    Mr Varinder Kumar Sharma warned the officials that any lapse on their part would not be tolerated and there should be optimum use of public money.
    Later, the Deputy Commissioner also chaired a review meeting related to Mission Tandrust Punjab.