Dev Samaj College for Women holds online inter college online 'best out of waste' competition 
Video presentation on Covid-19 theme contests held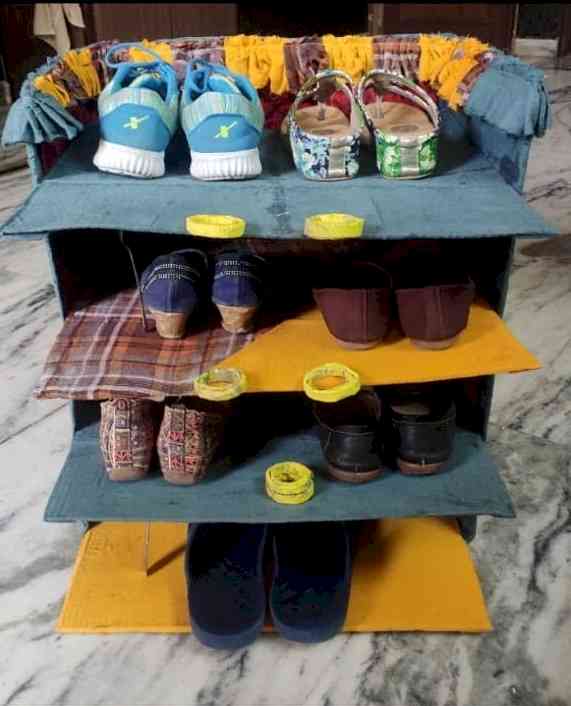 A prize winning entry in the 'Best out of waste' contest organised by Dev Samaj College for Women, Sec 45, Chandigarh.
Chandigarh: Dev Samaj College for Women (DSCW), Sector-45 B, Chandigarh, organized an Inter-College online 'Best out of Waste' competition, it also held a 'Video/ Animation Presentation competition' whose theme was Covid-19.  The competition was held for under-graduate and post-graduate students of the tri-city to infuse creativity amongst them during these trying times. The purpose of organizing the competition was to encourage students to live their passion while staying at home. Students from various colleges actively participated and showcased their talent. Winners were awarded with e-certificates.
The first prize in the 'Best out of waste' category went to Saveena Kaur Kalsi, B.A. 1st Year,DSCW, Chandigarh, the second prize was given to Rupali, B.Com 3rd Year DSCW, Chandigarh while 3rd prize went to Jasmeen Kaur, B.Voc. (Fashion Designing) 1st Year, GGDSD College, Chandigarh.
In video presentation 1st prize went to  Ishika, BCA 1st yr, DSCW, Chandigarh, second prize was bagged by Tanish Bansal, B.Com 2nd Year, SGGSC, Chandigarh while 3rd slot was taken by Ayushi, BCA-3rd year, DSCW, Chandigarh.
Principal, Dr. Meena Chopra, congratulated the winners and appreciated the efforts of the organizing committee for engaging the students productively. The Organizing Committee comprised of Ms. Rashmi Bhatia (Department of Computer Applications),Ms. Seema Sharma(Department of Fashion Designing), Ms. Nisha Singla(Department of Economics) and Ms. Varinder Kaur (Department of Fine Arts).