Deputy Commissioner presides over governing body meeting of Guru Nanak Bhawan
DC Varinder Kumar Sharma thanks the members for felicitations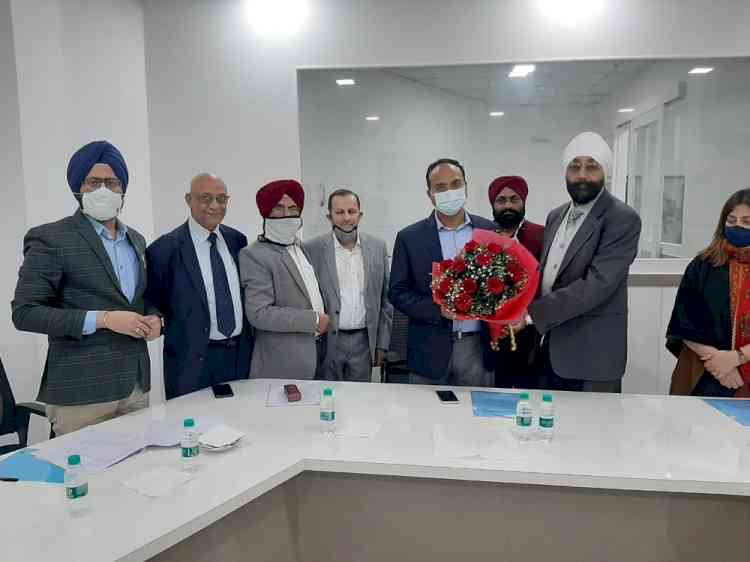 Ludhiana: Deputy Commissioner Ludhiana Varinder Kumar Sharma presided over the Governing Body meeting of Guru Nanak Bhawan Committee and discussed various developments and works being executed at Guru Nanak Bhawan here.
Guru Nanak Bhawan Committee members including Finance Secretary Darshan Singh, Charanjit Singh Vishkarma, Avtar Singh Bhogal, Dr Prem Kumar representing Sunil Munjal, Dr Jagdish Kaur from Punjab Agriculture University (PAU), Vivek Kumar from Vardhman Group and auditor CA Sanjeev Jain welcomed the Deputy Commissioner-cum-Committee President Varinder Kumar Sharma, who was attending the first meeting of Bhawan's Governing Body. Joint Commissioner Municipal Corporation Ludhiana Swati Tiwana was also present in the meeting.
Deputy Commissioner Varinder Kumar Sharma thanked the members for felicitations and assured full cooperation for development of Guru Nanak Bhawan Complex.
The Governing Body informed the Deputy Commissioner about various development works executed or under execution and briefed about the entire project since inception. The Deputy Commissioner along with the entire members visited the Complex. 
Meanwhile, the Society members also thanked the then Deputy Commissioner Pradeep Aggarwal for his services and passed to issue thanks letter to him.