Deputy Commissioner once again appeals residents to wear masks to avert second wave of Covid-19
Launches poster depicting importance of Masks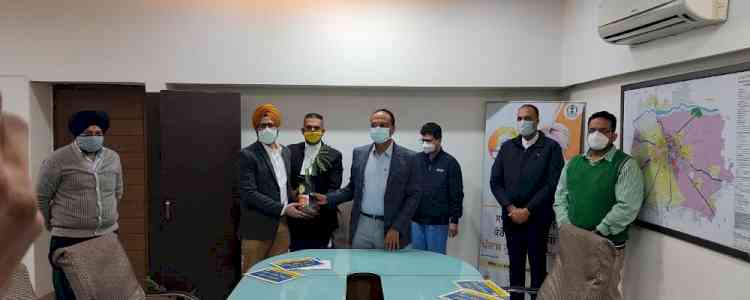 Ludhiana: With an aim to prevent the second wave of COVID-19 in the district, Deputy Commissioner (DC) Ludhiana Varinder Kumar Sharma on Wednesday, launched a special poster depicting the importance of mask and also started a drive to plant saplings of immunity booster Amla (Indian Gooseberry) tree plant. The drive was initiated by Advocate Harpreet Sandhu, vice president Sewa Sankalp Society.

Deputy Commissioner Varinder Kumar Sharma was holding a meeting with Dr Bishav Mohan and Dr Rajoo Singh Chinna from DMC Hospital to discuss the strategy to combat the impending second wave of COVID-19, which has already arrived in neighbouring state Delhi. Sub-Divisional Magistrate (SDM) Ludhiana West Amrinder Singh Malhi and SDM Ludhiana East Baljinder Singh Dhillon were also present.

Deputy Commissioner Varinder Kumar Sharma said although the district administration, health department and private hospitals are prepared to tackle the second wave of COVID-19, if people of the Ludhiana just wear masks whenever stepping out of their houses, it could surely break the second wave of COVID-19.

Dr Bishav Mohan said that the arrival of the second wave of COVID-19 is certain but we can only minimise its effect with the cooperation of the public. He said that like people of Ludhiana had cooperated to control the first wave, similarly if they just adhere COVID-19 safety protocols the second wave can also be contained.

He said that the mask is the only vaccine to avert the second wave of COVID-19 and urged people to wear masks besides maintaining social distancing and washing/sanitising hands frequently. He also requested people to voluntarily get them tested for COVID-19 if they find any kind of symptoms so that it won't affect their near and dears. 

Dr Rajoo Chinna advised people to dispose-off masks of COVID-19 positive patients after three to five days as the virus remains active for a few days and also asked them to tear off masks before disposing.

Meanwhile, Advocate Harpreet Singh Sandhu said that their society will plant 551 plants of immunity booster Amla tree in the city, which will also mark the upcoming 551st Parkash Purab of Sri Guru Nanak Dev Ji.