Deputy Commissioner Ludhiana holds review meeting regarding covid 19
Paramedical Staff carrying out survey in all parts of district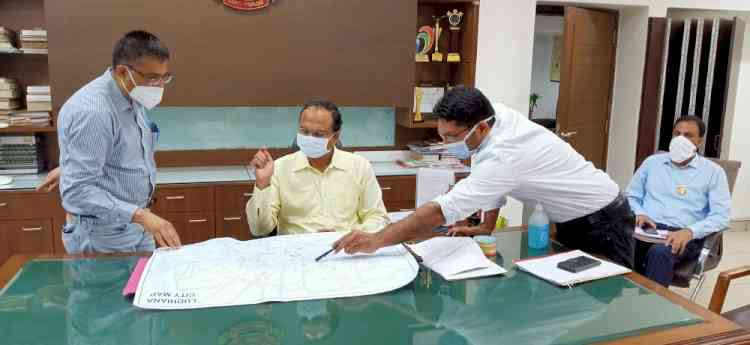 Ludhiana: Under the Mission Fateh of the Punjab government and to ensure that the city residents remain safe, Deputy Commissioner Mr Varinder Sharma today held a review meeting with senior District and Police Administration officials at his office, here today. 
The Deputy Commissioner has assured the residents of district Ludhiana that the District Administration is committed to ensure the well being of all persons living in the district and sincere efforts are being made to check the spread of Covid 19. He reiterated that the Covid 19 cannot be brought under control without the active support of Ludhiana residents.
He said that is why, Mission Fateh has been launched in the state and it would be made successful with the active participation of residents. He also warned of strict action against the persons who fail to follow the instructions issued by the Punjab government and Health Department in this regard.
During the meeting, he directed the health department officials to carry out maximum sampling of the suspected patients and they should keep a close watch on incoming passengers at Railway Stations and Bus Stands. Similarly, special emphasis should be given towards hotspots and people staying in containment and micro containment zones should be provided ration or cooked food.
Civil Surgeon Dr Rajesh Kumar Bagga told the Deputy Commissioner that the health department, through its paramedical staff, is compiling online data of persons who are aged above 30 years and are suffering from one or more disease and residing in more than 8 lakh households of district Ludhiana. He said that the data is being collected by visiting door to door and the residents are also educating the masses to wear a mask before leaving their houses, maintaining physical distancing and washing hands regularly.
He said that to ensure that people do not forget these things, a sticker is also pasted outside each house, which mentions phone numbers of the Covid control room, 0161-2444193, 4622276, where people can contact in case they have any Covid like symptoms.
Mr Varinder Sharma said that all departments should motivate the residents to download the COVA app and also upload their mask bearing photograph. He said that if a person uses referral code of another person to join this app, then additional points are added to their account and the person can win a gold, silver and bronze certificate bearing the signatures of the Chief Minister Punjab Capt Amarinder Singh.
He appealed to the Ludhiana residents to assist the District Administration and Health Department in checking the spread of Covid in our district and should contact their nearest flu corner in the government hospital if they have any symptoms.
The meeting was also attended by Covid Nodal Officer Mr Sanyam Aggarwal, ADC (General) Mr Amarjit Singh Bains, SDMs Mr Amrinder Singh Malhi and Mr Baljinder Singh Dhillon, besides several others.