Department of Physiotherapy held awareness session
Physiotherapy helps people in maintain a high quality of life and stay healthy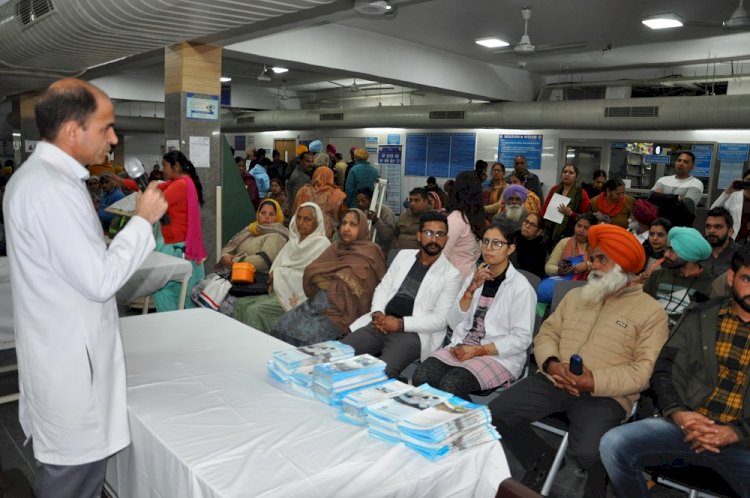 Ludhiana: In view of World Cancer Day observed yesterday, Department of Physiotherapy & Rehabilitation, DMCH, Ludhiana organized an awareness lecture on 'Role of Physiotherapy in treating cancer patients'.
Dr Avkash Teotia (Incharge, Physiotherapy Department) stressed that there are rising incidence of cancer in Malwa region of Punjab and 'Physiotherapy' plays a pivotal role in treating cancer patients by advising them about various physiotherapy and rehabilitation exercises to lead healthy life.
Dr Alka Kaul (Senior Physiotherapist at DMCH) addressed the gathering of patients and their attendants and told them about 'Role of physiotherapy' in treating cancer patients. In her address, Dr Kaul said that a patient suffering from cancer has to undergo many different types of treatment and 'Physiotherapy' plays a very major role in curing cancer-related fatigue, which is one of the most common side effects for those undergoing treatment.
A physiotherapist can assess a patient and pinpoint exactly what issues they are facing. Addressing these issues could involve strength training, to compensate for any weakening muscles or bones; aerobic training, to address energy issues that relate to pacing and breathlessness; cardiovascular & endurance training; or kinesiology, the science of movement, which can help patients learn how to overcome limitations and use the physical abilities they do have in the most effective way.
Physiotherapy helps people in maintain a high-quality of life and stay healthy and can be an extremely effective way of helping cancer patients in maintain better quality of life and thus, enabling them to pursue all possible routes for beating the disease.
The gathering was also informed about various state-of-art facilities and services available in the department.