Demand for Khalistan is Akali Dal's hidden agenda: Sukhjinder Singh Randhawa
Says SGPC president and Sukhbir Badal want Bargari to happen again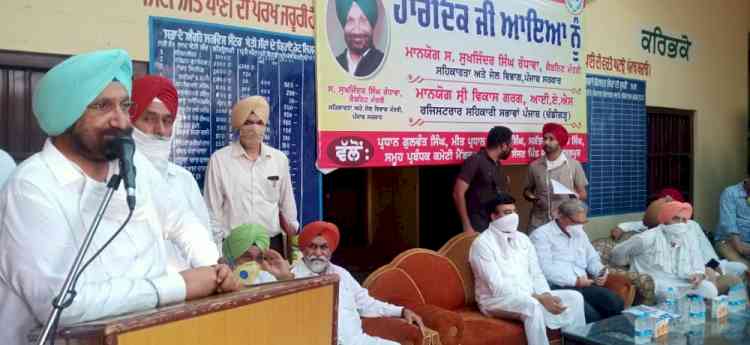 Jand/Mullanpur (Ludhiana):    Punjab Cooperation & Jails Minister Mr Sukhjinder Singh Randhawa today termed the statement of Shiromani Gurudwara Parbandhak Committee (SGPC) President Gobind Singh Longowal demanding Khalistan as "hidden agenda" of the Shiromani Akali Dal. He said that by issuing such statements, both SGPC president and Sukhbir Badal want Bargari like incidents to take place once again, which is not in the interest of Punjab and Punjabis in any way.
    During his visit to the Cooperative Societies at villages Jandi and Mullanpur, Mr Randhawa questioned the SAD president that will Sukhbir Badal pull out of the BJP led Union government for pursuing an anti-Sikh approach and agenda? "Does the SAD support the divisive and even secessionist agenda being pursued by the SGPC President?," he questioned.
    He said that Sukhbir Badal has always termed the Congress-led governments as "anti sikh", and what would he do now when his own wife Harsimrat Badal is a minister in the Union Cabinet. "Will Harsimrat Badal resign from the Union Cabinet immediately and shouldn't the Akali Dal break all ties with the BJP led Union government"," questioned Mr Sukhjinder Singh Randhawa.
    The Cabinet Minister also questioned Prime Minister Narendra Modi whether he would remove Harsimrat Badal from the Union Cabinet? Will Sukhbir Badal clarify that if Khalistan is formed, what would be its geographical boundaries?, said Mr Randhawa.
    While opposing the ordinance brought by the Union government, Mr Sukhjinder Singh Randhawa alleged that the Akali's coalition partners, the BJP led Union government, has already damaged the industry in Punjab and now they are trying to do so for the industry. He said that this decision of the Union government would benefit the big corporate houses financially and the farmers would fall prey to them. He said that not only the Punjabi farmers, but farmers in the entire country have rejected this decision.
    He said that during the COVID 19 pandemic, Punjabi farmers have fed the entire country. He said that instead of giving some incentive to the farmers, the Union government is trying to strangulate them.
    He informed that at present, there are around 3600 cooperative societies in the state, out of which around 1100 were in loss. He said that due to dedicated efforts, around 500 of such loss making societies are now in profit. He said that they have set a target of bringing around 300 more societies in profit by next year and the remaining societies would be merged into others. He said that the cooperative societies suffered huge losses during the tenure of Shiromani Akali Dal.
    On this occasion, he appreciated the working of both the cooperative societies and said that soon, other societies would also turn into profit making ones.
    Prominent among those present on the occasion included Senior Congress leader Capt Sandeep Singh Sandhu, Registrar Cooperative Societies Mr Vikas Garg, former minister Mr Malkit Singh Dakha, Chairman Mr Amrik Singh Aliwal, Mr Major Singh Bhaini, Mr Rachhpal Singh Talwara, Mr Gurdev Singh Lapran, Chairman Mr KK Bawa, Mr Major Singh Mullanpur, besides several others.