Demand for completion of Jaimal Road within 15 days
Subash Market Association Ward No 41 Halka Atam Nagar urges Ludhiana Mayor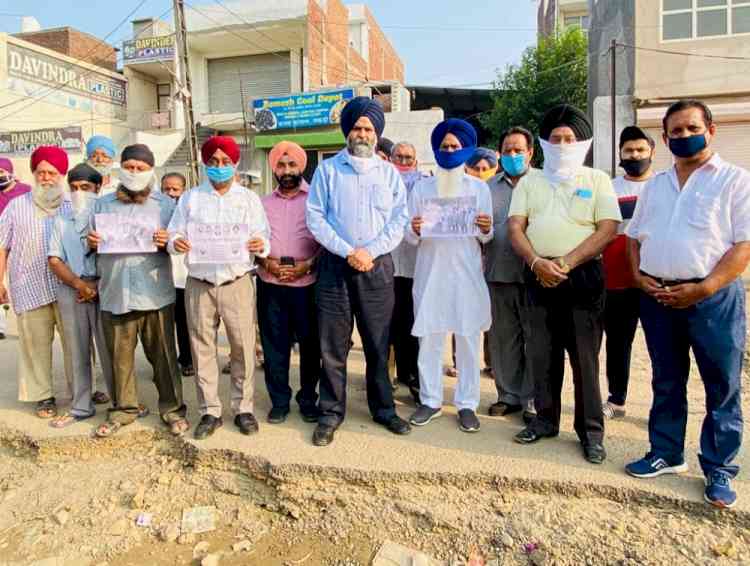 Ludhiana: Subash Market Association in Ward No. 41 of Ludhiana's Atam Nagar Constituency demanded the Completion of Jaimal Singh Road within 15 days from Shri Balkar Singh Sidhu Mayor Ludhiana, otherwise the whole market will protest against the administration.
The construction work of Jaimal Road has been started on the 13th of February 2020, but till date no work has been done, rather the road has been digged up from both the ends obstructing the movement of traffic over it. There are 124 shops and establishments on the both sides of the road; whose business is completely stagnant due to non-movement of traffic. These shopkeepers have came out from the lockdown of 2 months, and faced huge losses, now what they are facing is another force lockdown due to non-availability of road. The Subash market Association Jaimal Road, has requested the City Mayor Shri Balkar Singh Sidhu, to get the work completed within 15 days, otherwise the whole market will protest against the Ludhiana administration, said S. Gurmeet Singh Kular Incharge Halka Atam Nagar (Shiromani Akali Dal) & Senior Vice President Industry & Trade Wing Shiromani Akali Dal.
Amongst Present were Mr. Avinash Kumar Verma President Subash market Association, Mr. Swaran Singh Moholi, Mr. Baljeet Singh Bansal, Mr. Gurmeet Singh Dhanota, Mr. Subhash Sharma, Mr. Ashwinder Singh, Mr. Sunil Kumar, Mr. Surinder Kumar, Mr. Tony Kumar, Mr. Jasbir Singh, Mr. Ashwani Kumar & others.