Delegation arrived to promote scholarship programme in India
Sayit Yusuf shared that Turkey Scholarships are only accepted by Scholarship's website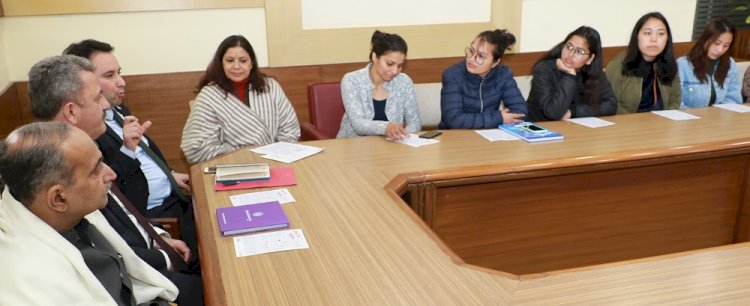 Chandigarh: To promote the scholarship programme in India, a delegation lead by Mr. Sayit Yusuf, Deputy President of the Presidency for Turks Abroad and Related Communities (YTF) of the Republic of Turkey visited Panjab University and gave presentation to Prof. Shankarji Jha, Dean of University Instructions and Acting Vice Chancellor in the presence of Prof. Nandita Singh, Dean International Students, Dr. Muneeshwar Joshi, Secretary to Vice Chancellor, Mr. Vikram Nayyar, Finance & Development Officer. They were visiting Panjab University after having a meeting with Ministry of HRD and Association of Indian Universities(AIU) in New Delhi.
He informed that out of 1000 yearly applications around 35 students from India are given scholarship opportunity to study in Turkey. They are looking for quality students for education in their country and are v hopeful that Indian students would compete well. 
Sayit Yusuf shared that Turkey Scholarships are only accepted by Scholarship's website which are available for undergraduate, post graduate and research degrees in a range of subjects. Their scholarship programme is like a package which includes to and fro flight tickets, tuition fee, health insurance, accommodation expenses, monthly cash stipend to cover their daily expenses and one year learning Turkish language course.
It was also shared that since Turkey and India share a very close cultural ties, they are looking forward to have more students to study in their country. It was shared that at present they have 17000 international students from 150 countries studying in Turkey and around 4000 students are given scholarships annually. 
They interacted with faculty and students of University Institute of Engineering and Technology (UIET)  and other courses.