Dehra Vidhan Sabha constituency on track of development
Foundation stones laid, projects inaugurated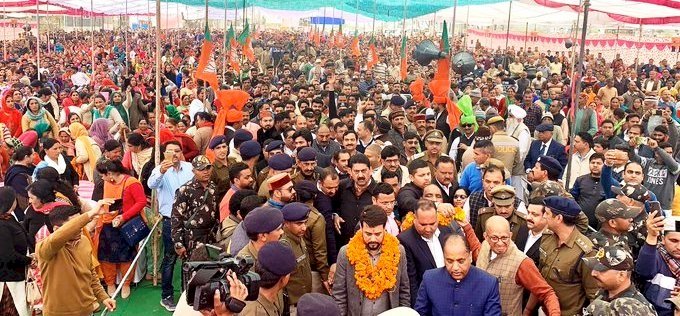 Dharamshala: MoS Finance Anurag Thakur and Himachal Pradesh Chief Minister Jairam Thakur together laid the foundation stone and inaugurated various projects in the Dehra Vidhan Sabha of Hamirpur Parliamentary constituency at a cost of about Rs.40 crores. 
The projects included Health Center Bhawan Chanaur, Narada Khad Bridge on Bassi Sunhet Road, construction of canteen block 3 of Government College Haripur-Guler, Drinking water scheme for various panchayats / villages under Jal Jeevan Mission and Improvement-cum- promotion of distribution system of 5-lift drinking water scheme Dhaliara, Surajpur.
Earlier, Chief Minister Jairam Thakur inaugurated the Bio Mass Project established at Dhaliara. On the initiative of MLA Hoshiar Singh, the Chief Minister closely watched the Bio Mass Project prepared from Lentana. Several dignitaries were present on the occasion including Union Minister of State for Finance Anurag Thakur, Cabinet Ministers Vipin Parmar, Bikram Thakur, Planning Board Vice President Ramesh Dhawala, MLA Hoshiar Singh, Arjun Thakur, KCC Bank Chairman Dr. Rajiv Bhardwaj.