Declare health a fundamental right: IDPD
Declare health a fundamental right was the demand by the participants who joined hands with a pledge to work for peace and health in the New Year in the event organized by the Indian Doctors for Peace and Development (IDPD)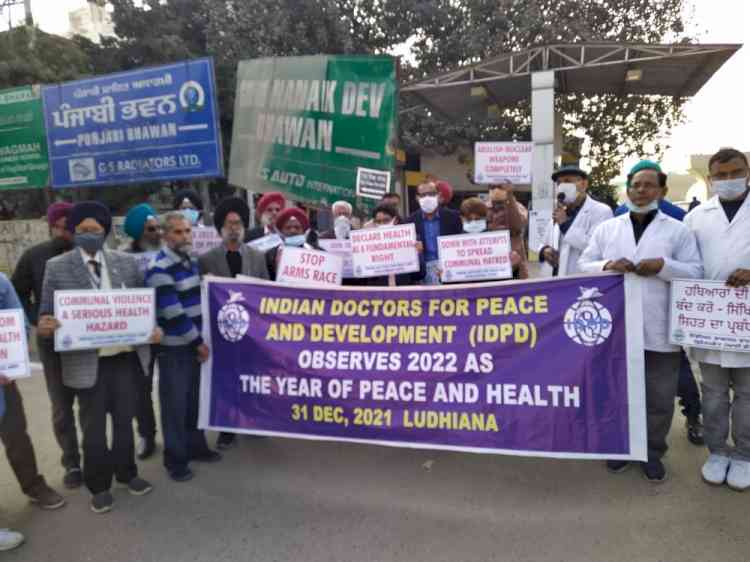 Ludhiana, December 31, 2021: Declare health a fundamental right was the demand by the participants who joined hands with a pledge to work for peace and health in the New Year in the event organized by the Indian Doctors for Peace and Development (IDPD) near the Punjabi Bhawan here today. Doctors, medical students and other concerned citizens who participated said that on one side world is facing serious health crises due to Pandemic on the other side the armament budget is on the rise taking away resources from health which is a dire need in the present day conditions.  
Addressing the gathering, the leaders said ironically South Asian countries which are already among the most deprived in the world too are in on the same line. The Pandemic has exposed already existing serious flaws in our healthcare system. The out of pocket expenditure is pushing 6.3 crore people in our country to poverty every year. India is becoming a hub of several communicable and non-communicable diseases.  We need meticulous planning and resources but the whole narrative is being changed by the bigots with the overt and covert support of the state and they are out to spread communal venom and split the society. This will seriously affect harmony in the society and thereby health. No one is safe during the communal violence and this has to be realized by all. We have to talk of real issues like health, education and uplift of down trodden. India should take initiative for dialogue with the neighbors to put a check on the arms race and declare South Asia a nuclear weapons free zone. The IDPD will work for these issues in the coming year. 
Those who addressed include Dr Arun Mitra, Dr N S Bawa, Dr Gagandeep Singh, Dr Param Saini, Dr Monika Dhawan, Dr Suraj Dhillon, Dr Gurveer Singh, Dr Tanya Aulakh, Prof. Jagmohan Singh, Chamkaur Singh, Gulzar Goria and Vinod Kumar.