DC urges school principals, teachers and parents to encourage children above 12 years to get vaccinated
Holds meeting with principals & representatives all major private and government schools today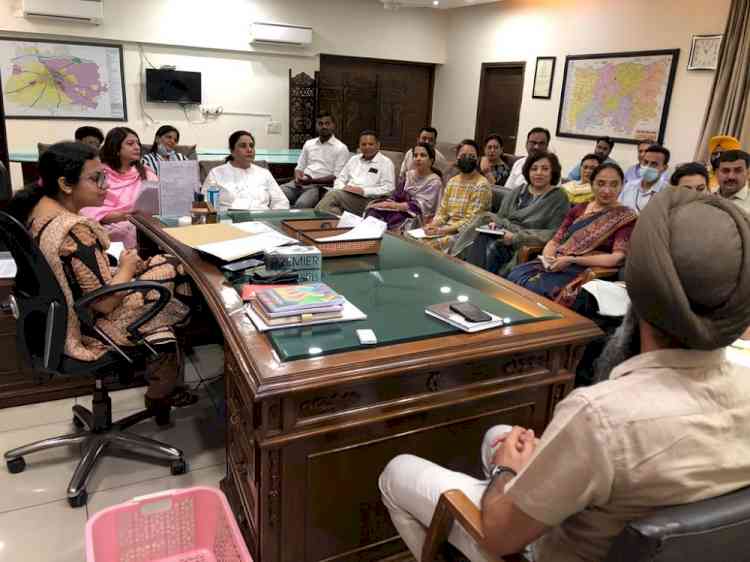 Ludhiana, May 17, 2022: Regarding the vaccination of those aged above 12 years, Deputy Commissioner Ludhiana today held a meeting with principals and representatives of all major private and government schools to motivate parents to encourage their children to get themselves vaccinated so that we can weed out Covid19.
This meeting was held in the DC office and was also attended by ADC Jagraon-cum-Nodal Officer (Vaccination) Dr Nayan Jassal, DIO Dr Manisha, senior officials from Education Department, representatives of Private Schools Union, besides several others.
During the meeting held today, the DC stated that parents should encourage their children for getting themselves vaccinated as vaccination helps in fighting the Covid, even if one gets infected. She said that in larger interest of the society and to ensure that our children stay safe, parents should get their children vaccinated at the earliest.
She strongly urged all schools and parents associations to get their children vaccinated for their safety and good health. She also urged population above 18 to get vaccinated with their second dose, if it is still pending. Schools were given the option of getting special vaccination camps arranged by health department at their campus in any of the coming days and even during the holidays later if required.
She said that to cover maximum children above 12 years of age, special vaccination camps are already being organised in the schools. She said that besides, children can visit any other camp too if they want to get vaccinated.