DC pays tribute to Bharat Ratna Dr Ambedkar on his 130th birth anniversary
Exhorts people to follow the path shown by Dr Ambedkar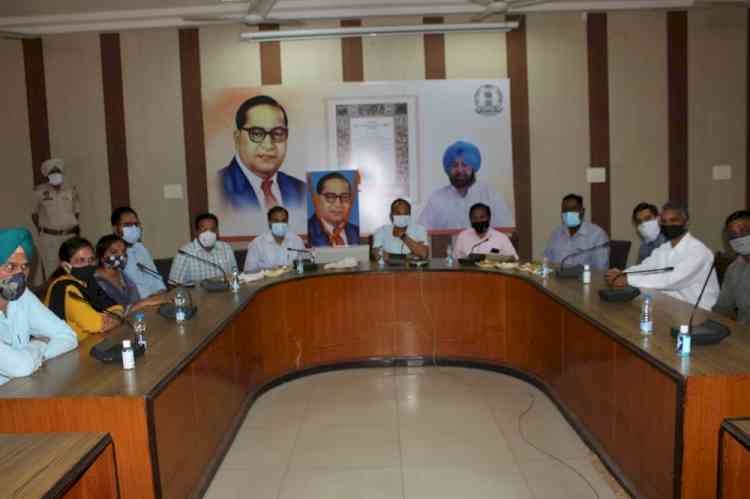 Ludhiana: Deputy Commissioner Varinder Kumar Sharma on Wednesday paid floral tributes to Bharat Ratna Dr. BR Ambedkar on his 130th birth anniversary.  
Participating in a virtual function presided over by Chief Minister Capt Amarinder Singh here in Bachat Bhawan today, Deputy Commissioner called upon the people contribute towards making an ideal society by following the principles of equality and liberty as dreamt by Bharat Ratna Baba Saheb Dr BR Ambedkar. 
Describing Dr. Ambedkar as a great scholar, jurist, economist, social reformer and a statesman, he said that Dr Ambedkar was one of the most towering personalities in the entire world history. He said that though Dr. Ambedkar hailed from a humble family but his exceptional contribution for the society has brought him in the league of global leaders.
He added that Indian Constitution was the result Dr. Ambedkar's hard work, dedication and far sightedness adding that Baba Saheb was not only leader of weaker sections but he belonged to the entire humanity. 
Sharma said the unmatchable determination and struggle of Dr Ambedkar to bring the underprivileged and poor sections of the society into the mainstream, will remain an example for every generation in the world. 
He appealed that people to make dedicated efforts for ensuring justice and equality for all section of the society by rising above the above the petty considerations of caste, colour and creed which would be real tribute to Dr Ambedkar. 
Meanwhile, Deputy Commissioner also asked the eligible people to shun the apprehensions about Covid vaccines and fulfill national duty by taking the jab in the war against the Covid pandemic and help in making healthy and Covid free India. 
Prominent among present occasion included Senior Deputy Mayor Sham Sunder Malhotra, ADC (General) Amarjit Bains, SDM (East) Dr Baljinder Singh Dhillon, District Welfare Officer Rajinder Kumar, besides several others.