DC Ludhiana releases video on "Managing Covid-19 at Home" for home isolation persons 
Although home isolation facility came as a big relief for the Covid-19 positive but asymptomatic or mild symptoms patients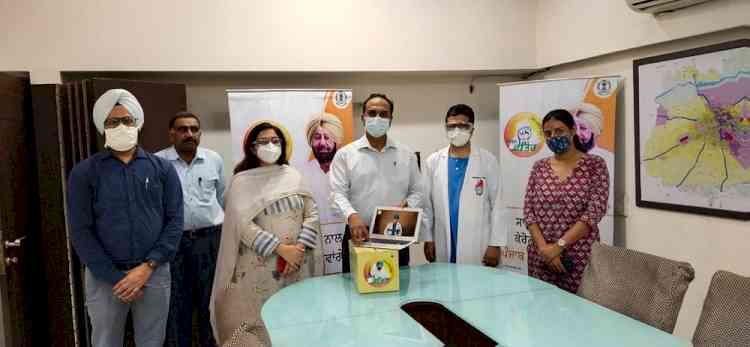 Ludhiana: Deputy Commissioner (DC) Ludhiana Varinder Kumar Sharma on Tuesday, released a short video of Senior Cardiologist at Hero DMC Hospital Dr Bishav Mohan explaining "How to Manage COVID-19 at Home" for Home Isolated persons under Mission Fateh.

Deputy Commissioner along with Additional Deputy Commissioner (ADC Jagraon) Neeru Katyal Gupta, Dr Bishav Mohan and Nodal Officer Home Isolation Dr Puneet Juneja released the video at his office.

Deputy Commissioner said that although home isolation facility came as a big relief for the COVID-19 positive but asymptomatic or mild symptoms patients, those opting for it should know few things to keep in mind while isolated at home.

He said that in the video— a joint initiative of ADC Neeru Katyal, District Public Relations Department (DPRO) and Dr Bishav Mohan, the latter explained in a layman language and practical way about things to take care while home isolation.

In this 9 minute and 48 seconds video, Dr Bishav Mohan was seen giving tips to COVID-19 positive patients, who were advised for home isolation after they found asymptomatic or have mild symptoms.

Dr Bishav Mohan stressed on keeping such COVID-19 patients in a separate room with an attached toilet and it should be cleaned and sanitise with Sodium hypochlorite frequently. He said that the caretaker of the COVID-19 patient should always wear a 3-ply mask. He also advised that caregiver should not be elderly or person with comorbidity.

He said that the COVID-19 patient should either wear disposable clothes or wash their clothes by himself and also advised to have food in disposables. 

Dr Bishav Mohan further stressing on nutrition diet, said the COVID-19 positive patients should take protein diet like Lassi and paneer, increase intake of Vitamin C and potassium. However, he advised Kidney and Sugar patients to avoid potassium. He asked Home Isolation people to keep themselves hydrated by consuming maximum water and also take coconut water. He said that "Kadha" is also very beneficial for positive patients.

He also advised home isolated patients to keep strolling in their room and do some activities like listening to music and Gurbani, doing yoga and meditation, reading books and newspaper. He also asked them to communicate with near and dear via phone or from a distance while wearing masks.   

Dr Bishav Mohan while stressing on measuring saturation level frequently using Pulse Oximeter said that if a patient finds their saturation level below 95 per cent they should immediately consult their doctor.

He said that to keep lungs healthy, people can do some lungs exercise by blowing balloons or using a spirometer, which will help to increase the capacity of lungs. He also advised sugar patients to keep monitoring their sugar level.