DC Ludhiana inaugurates corona disinfection tunnel at district administrative complex 
Says such tunnels would also be set up in other offices that receive high footfall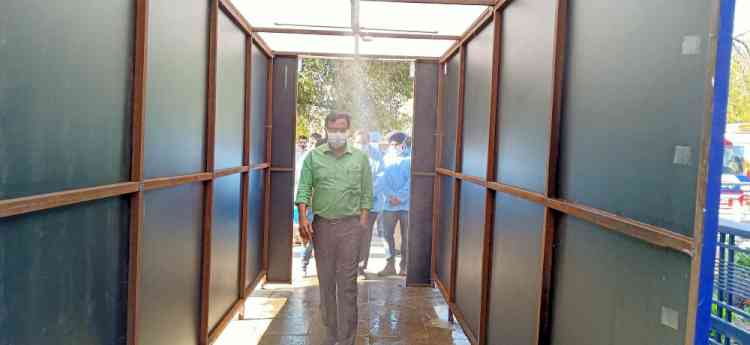 Corona disinfection tunnel have been set up at DAC by NGO Aas-Ehsaas
Ludhiana: With an aim to ensure that a person gets disinfected completely, an NGO named "Aas-Ehsaas" have come up with an innovative idea under which a "Corona Disinfection Tunnel" has been set up at District Administrative Complex, here. The tunnel was inaugurated by Deputy Commissioner Mr Pradeep Kumar Agrawal today.
While speaking to media persons on the occasion, the Deputy Commissioner informed that an automatic sprinkler system having sodium hypochlorite mixture have been installed in this tunnel. He said that when a person passes through it, the sprinklers would start automatically and the entire body would be sanitised. He also thanked the members of Aas-Ehsaas NGO for setting up this tunnel at District Administrative Complex, here.
Mrs Gunjeet Ruchi Bawa, Founder and President, Aas-Ehsaas, informed that a total of four such tunnels would be installed in the district. She said that the second such tunnel would be set up at Civil Hospital, here, whereas the remaining two would be installed at places which the district administration chooses. She claimed that when a person passes through this tunnel, 90-95% of the body would be sanitised. She informed that the NGO is also providing kiosks for the doctors, where they can check the patients in a much safer environment.
Prominent among those present on the occasion included Additional Deputy Commissioner (General) Mr Iqbal Singh Sandhu, SDM Ludhiana (West) Mr Amrinder Singh Malhi, NGO Aas-Ehsaas members Mr Minku Bawa, Mr Manmeet Singh, Mr Sanjeev Gupta, Mr Sandeep Gupta, besides several others.