DC launches weeklong awareness drive under 'mission fateh' by flagging off awareness activities
Slew of activities to be organized for making people aware about steps to check corona virus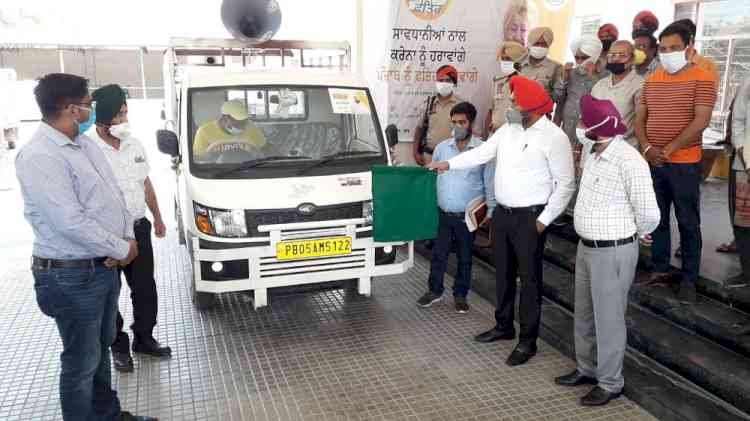 Ferozepur: Deputy Commissioner Ferozepur Mr. Kulwant Singh today embarked a weeklong major awareness drive to make people aware about the preventions for checking the spread of the Covid 19 pandemic by flagging off awareness vehicles under 'Mission Fateh'. 
The Deputy Commissioner, accompanied by SDM Amit Gupta,  Assistant Commissioner Ravinder Arora, Civil Surgeon Dr. Navdeep Singh, Secretary Red Cross Society Ashoke Bahal flagged off the vehicles from the District Administrative complex as a part of this campaign, which was launched by the Punjab Chief Minister Captain Amarinder Singh a few days back. He said that during these week long campaign around 28 vehicles would disseminate information to people by moving in villages and cities across the district. Mr. Singh said that during this campaign major thrust would be on generating maximum information regarding the threat and precautions from Corona Virus as it was the only way to keep this pandemic at bay. 
Divulging more details about the weeklong activities to be carried out during the drive, the Deputy Commissioner said that on June 15th felicitation of Corona Warriors would be organized by the district administration and on June 16th door to door sensitization by Anganwari workers would take place.
Likewise, he said that on June 17th door to door sensitization by sarpanches would take place and on June 18th awareness campaign would be conducted by the Public Relations department. In the same manner on June 19th door to door sensitization campaign would be done by the NGOs and on June 20th door to door sensitization drive would be initiated by the Police department. 
The Deputy Commissioner also said that on June 21st sensitization drive would be started by the Resident Welfare committees and other citizens. Soliciting fulsome support and cooperation from the people for this noble cause, he said that the war against Corona could be won by making the norm of social distancing an integral part of their lives. Mr. Singh asked the people to stay at their homes, wear masks while moving in public, wash their hands with soaps/ use sanitizer and others.