DC Kangra reported Corona positive 
Health Department tracing primary contacts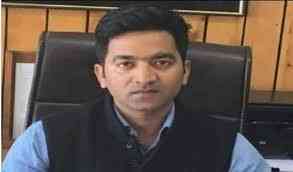 The Deputy Commissioner Kangra Rakesh Prajapati.
Dharamshala: Yesterday, the Deputy Commissioner Kangra Rakesh Prajapati was reported corona positive. DC has been put on self-isolation for 14 days, while those who came in contact with him during last few days were directed to isolate themselves and take necessary precautions.

The Health Department in the district is making a list of people and officials who came in contact with the DC. Samples of the main staff of DC Office are being taken. It is to add here that Deputy Commissioner Kangra had gone with SP Kangra Vimukt Ranjan to settle the dispute arising out of the death of a 24-year-old married woman in Jameetar in Jaisinghpur on Sunday. It is being told that the Deputy Commissioner had come in contact with many people here. At the same time, he also held meetings with several departmental officers last week.

The Chief Medical Officer, Dr. Gurdarshan Gupta said, "Many people reach the office every day to meet the Deputy Commissioner. In such a situation, their contact list can be quite long." Dr.Gupta has appealed  that all those who have come to the close contact of Deputy Commissioner Kangra should quarantine themselves and also inform the department.

Rakesh Prajapati, is the Deputy Commissioner of Kangra, the largest district of Himachal Pradesh and has done an excellent job in the Corona crisis. For this he has also been awarded by many institutions.

As many as 55 more people, including Deputy Commissioner Kangra Rakesh Kumar Prajapati, have tested positive for the lethal novel corona virus, yesterday in Kangra district, putting the caseload in Kangra district to 1147 till Monday. CMO informed that 15 new recoveries were made taking the number of cured persons to 743.