DC fixes weekly targets of departments to ensure timely completion of development projects
Reviews progress on various development schemes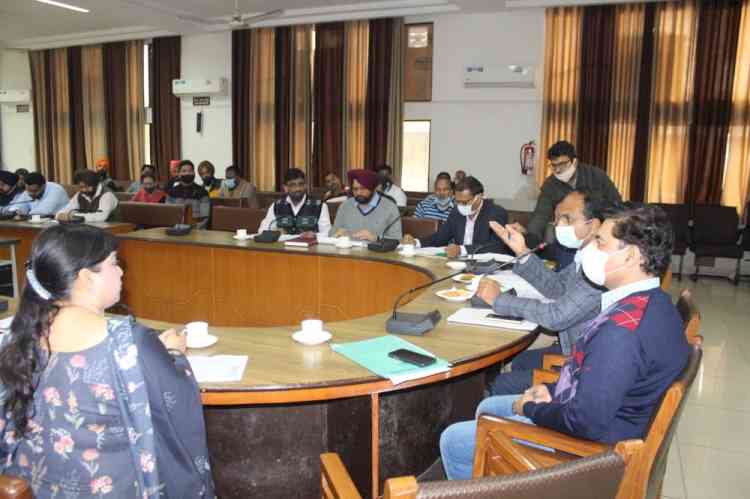 Ludhiana: In a bid to ensure timely completion of development projects started by Chief Minister Captain Amarinder Singh-led state government, Deputy Commissioner Varinder Kumar Sharma on Tuesday has fixed the weekly targets of various departments, which he would personally review. Chairing a review meeting with different departments at Bachat Bhawan, Deputy Commissioner directed officials to complete ongoing development projects within a month and submit Utilization Certificates (UCs) for the funds they had received for the development works.
He said that projects undergoing the incurring Panchayat funds, Finance commission's funds, and Rural Development Funds to be completed within timeline while announcing that he will hold a weekly review on the progress of these works. 
The deputy commissioner also fixed weekly targets of the concerned departments so that pending works could be completed in a time-bound manner.
He further asked officials to expedite the pace of the works  to alleviate the rural and urban distress. He said that scaling up the performance would not only foster the development of the rural and urban areas. 
Earlier, in the meeting, the deputy commissioner asked the officials to leave no stone unturned to achieve the set targets. 
He categorically said that any sort of laxity in this work was unwarranted and undesirable adding, the constant monitoring of target achievements to be done regularly.
The deputy commissioner asked officials to adopt a multi-pronged strategy to ensure that people are benefited from these programs. 
Meanwhile, the deputy commissioner also reviewed the progress on the various schemes including Smart Village Campaign, Urban Environment Improvement Program, Basera, Jal Jiwan Mission, Rural Transformation, and many more.
Prominent amongst those present on the occasion included ADC (D) Sandeep Kumar, Additional MC Commissioner Rishipal Singh, DDLG Amit Bamby, and others.