DC directs health department to set up special camps for UDID cards from Monday
Appeals specially-abled persons to enroll themselves for card and avail benefit of various schemes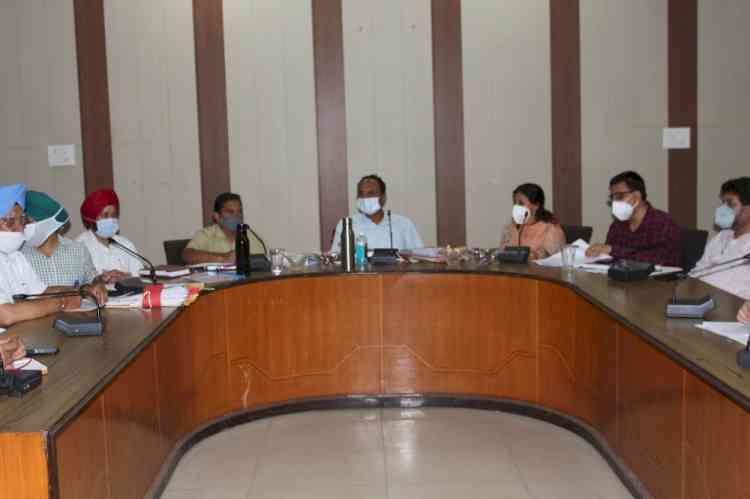 Deputy Commissioner, Ludhiana Varinder Kumar Sharma on Friday presiding over a meeting at Bachat Bhawan.
Ludhiana: Deputy Commissioner Varinder Kumar Sharma on Friday directed the health department to organize special camps in the district to speed up the enrolment of specially-abled persons for the Unique Disability Identity Card (UDID).
Presiding over a meeting at Bachat Bhawan, Deputy Commissioner asked the department to set up one camp in each sub-division of the district from next week and create awareness among the general public about camps in advance through Municipal Councillors/Sarpanchs/Asha workers so that the specially-abled persons can take maximum benefit of the schemes.
He asked them to ensure enrolment of maximum specially-abled persons daily through the camps and he would personally review the progress of the enrolment.
He appealed to all specially-abled persons to bring their Aadhaar Card, Voter Card or any proof of age, passport size photograph and others for UDID in the camps.
The Deputy Commissioner said that he would also inspect the camps surprisingly. 
He said that a panel of orthopaedics, ENT and EYE specialists, psychiatrist, paediatrics, and others physically usually examine before issuing disability certificate.
He said that the cards are being issued not only to encourage transparency, efficiency, and ease of delivering the government benefits to the person with disabilities but to also ensure uniformity.
The Deputy Commissioner said that cards would also help in streamlining the tracking of the physical and financial progress of beneficiaries at all levels of the hierarchy of implementation – from village level, block level, District level, State level, and National level.
He said that Assistant Commissioner Dr Harinder Singh would be nodal officer of this scheme and would visit the camps daily to ensure aggressively enrollment. 
He added that the card helps in ensuring free travel to visually challenge government buses besides providing 50% concession to other specially-abled persons in them.
Further in order to aggressive coverage of the above than 18 under Covid inoculation drive , Deputy Commissioner directed the youth welfare and panchayat departments to hold 70 vaccination camps on June 19 and 20. He said that aggressive vaccination is key to prevent third wave of Covid-19. 
Prominent among present occasion included Additional Deputy Commissioner (Development) Sandeep Kumar, Civil Surgeon Dr Kiran Gill and others.