DC confers Swachh Vidyalaya Puraskar to 38 schools for excellence in sanitation and hygiene practices
Congrats school managements for this distinctive achievement and becoming role models for others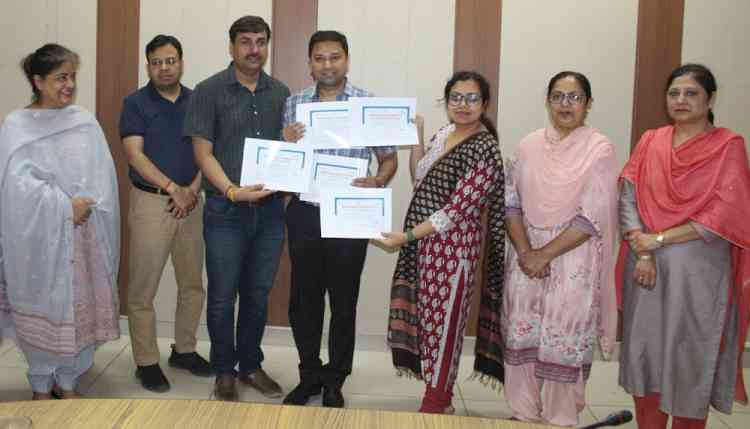 Ludhiana, June 28, 2022: In a rare feat, as many as 38 schools of Ludhiana District have bagged Swachh Vidyalaya Puraskar-2022 after a detailed evaluation of sanitation and hygiene practices adopted by these schools by special evaluators.
 
Conferring this Puraskar to selected schools, Deputy Commissioner Ludhiana Surabhi Malik congratulated all the winners while urging them to maintain this position in future also besides asking others to follow their footsteps. She said that it was a matter of immense pride that our 38 schools have won this precious award with six schools scoring the overall top ranking which translate into best performance of these schools in all the categories.
 
The DC further added that the award has been given in six main categories including drinking water, toilets, behavioral change & capacity building, hand washing with soap, operation and maintenance, and Covid-19 preparedness and response. She said that the Government of India gives this award every year after an elaborate survey through evaluators at school level to make assessment of their performance in the all six categories.
 
Further stressing such activities, she said that schools can play a pivotal role in inculcating positive approach towards sanitation and hygiene practices among children at early age so that they can emerge as good and responsible citizens. She also said that this behavioral conditioning of children would also lead to instilling love for the environment as cleanliness is also a part of environment protection. Let us not be complacent on this success and further strive to make all schools winner in this competition, she said, urging other schools to follow the footprints of successful institutions to achieve this mission.
 
Pointing out further, Additional Deputy Commissioner Amit kumar Panchal said that District Administration Ludhiana has been according top-priority to uplift the school education in the district. He said that a massive digitization drive was underway at all 533 government secondary schools while solar panels were also being installed there. Likewise, no school is left without the separate washroom for girls along with the availability of incinerators.
 
Prominent amongst others present on the occasion included DEO Jaswinder Kaur, Deputy DEO Charanjit Singh, SDVP team member Rana Bhupinder Singh, Balwinder Kaur, Manju Bhardwaj, and Kulwant Singh.