DC, chairman of various boards along with industrialists join 4th Progressive Punjab Investors' Summit 2021 virtually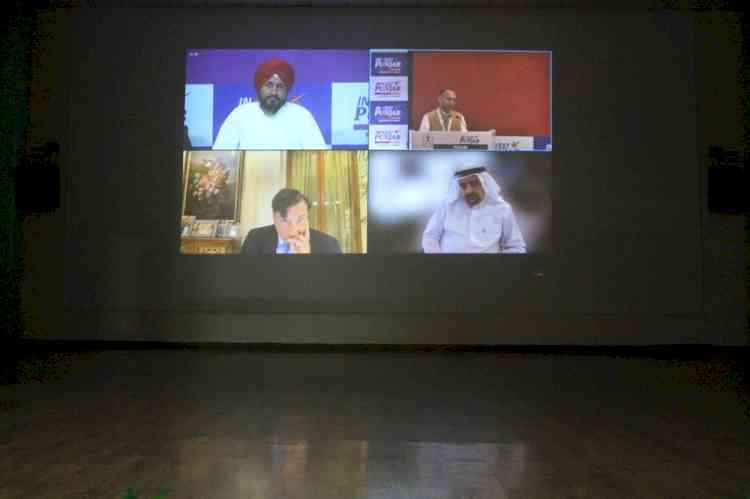 Ludhiana, October 26, 2021: Deputy Commissioner Varinder Kumar Sharma, Punjab Medium Industrial Development Board (PMIDB) Chairman Amarjit Singh Tikka, Punjab Youth Development Board Chairman Sukhwinder Singh Bindra, Chairman Punjab State Industrial Development Corporation (PSIDC) KK Bawa, Punjab Large Industrial Development Board vice-chairman Ramesh Joshi and BACKFINCO Vice Chairman Mohd Gulab, along with industry tycoons on Tuesday virtually joined Progressive Punjab Investors' Summit. 
Welcoming the industrialists at Pal Auditorium in PAU, they said that the business friendly and development oriented initiatives of the Punjab government have made Punjab a leading state in terms of Industrial development.
The Deputy Commissioner said that the state government had launched 'Business First' portal to assist businesses with hassle-free NOCs to start their industries in Punjab besides brought Right to Business Act, ensured cheaper power to the industry for them. 
He said that summit would script transformation of the business era and would result in economic development of the state. He assured the industrialists that the state government would leave no stone unturned to ensure that the industrialists are benefitted from its pro-investor policies.  
He said the state government and the district administration are fully available for the industrialists to solve their problems.
Meanwhile, the industrialists also lauded the state government for their business policies and ensuring ease of doing business for them.
Prominent among present on the occasion included Additional Deputy Commissioner Sandeep Kumar, GM DIC Rakesh Kumar Kansal and representatives of Knitwear Club, KD Fabrics, Jindba Processors, Ralson tyres, Godrej Tyson, Iskon Balaji Mahajan Engineering Works, AriSudana and others.