DC and SSP jointly visit strong rooms and counting centers
Ask the guarding teams for extra vigilant of strong rooms having EVMs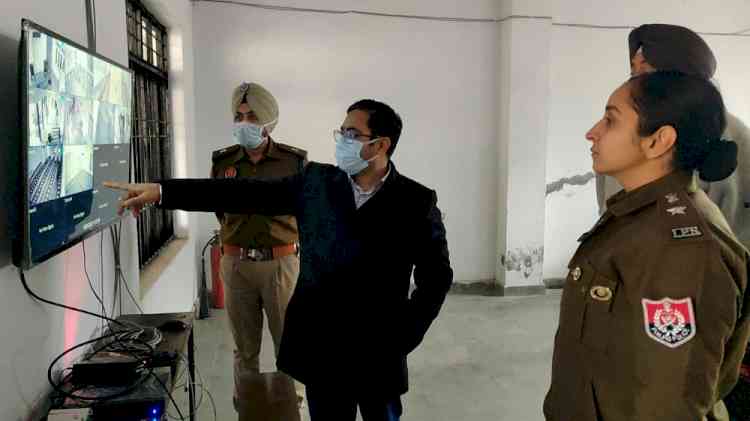 Nawanshahar, January 19, 2022: In a joint visit to the strong rooms where the EVMs have been palced after completion of first round of randomisation, DC Vishesh Sarangal and SSP Kawardeep Kaur directed the concerned authorities to keep strict vigil on the EVMs.
     Deputy Commissioner and SSP said that to ensure  free, fair and transparent election process, the role of EVMs is very important and it's our prime duty to safeguard the machines in a foolproof manner.
     At  GN College Banga where despatch and receipt, both centers have been prepared, deputy commissioner said that this time counting of the votes would also be held at this place. He asked the SSP to chalk out  appropriate security deployment plan, so that smooth arrangements could be done in advance.
      He also checked the EVMs through CCTV cameras installed there and asked the police personnel guarding the strong rooms for  extra vigilant . He directed that no body would be allowed to visit this area and entry of officials must be logged in a special log book.
     Reviewing the despatch arrangements at BAV Senior Secondary School, Balachaur, DC and SSP said that the polling parties would be despatched for Balachaur assembly constituency from this place while receipt and counting arrangements have been done at Baba Balraj Punjab University Constituent College. He asked the police officials to make traffic plan in  advance for the despatching and receiving of polling parties at both sites as per the ECI guidelines.
       At Doaba College of Engineering and Technology, Chhokran in Rahon, the Deputy Commissioner accompanied by SP (H) Manvinderbir Singh took stock of the strong room and Counting Hall. He directed for necessary security arrangements so that EVMs could be kept under tight security. He asked the Tehsildar Nawanshahar, Amarjit Singh Sidhu to make some changes as per the ECI guidelines.
      The Deputy Commissioner said that it would be the first instance to have separate counting centers in the district in lieu of Covid Guidelines to decongest the earlier single site. This time as per the ECI guidelines in wake of COVID-19 precautions, two counting halls having 7 counting tables each would be set up at each counting centers, said the deputy commissioner.