Day-2 of GMMSA Expo India - 2020 witnesses large number of visitors
Increasing productivity and efficiency are the key focus of new technology in GMMSA Expo India 2020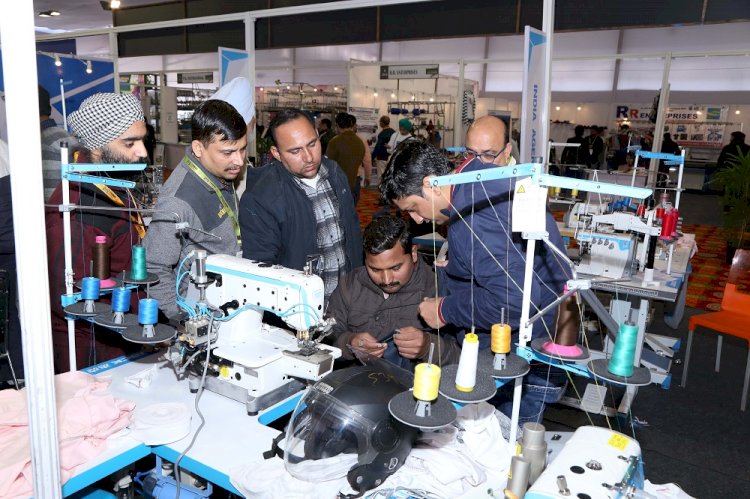 Ludhiana: With prevailing competitive environment in domestic and global industry, one of the biggest concerns of machine manufacturers is that they need to make the machines more energy efficient. This effort was visible at on the 2nd day of the GMMSA EXPO INDIA - 2020 that witnessed a large number of visitors. People from different parts of the country visited the exhibition, organised by GMMSA Expo India 2020 at Dana Mandi, Bahadurke Road in Ludhiana from 3rd January to 6th January, to get a glimpse of the latest technology that is available in the market.
There is a growing urgency to save resources and for this the manufacturers are striving hard to make machines more energy efficient and highly productive thereby increasing efficiency and cost cutting. There are plenty of machines that are faster and produce more, however, inventors have not left out the idea of energy saving. The aim is to deliver effective production and to minimise wastage. Saving water and electricity is a challenge that all manufacturers face and have achieved success to some extent.
Mr. Narinder Kumar – President GMMSA Expo India 2020 and Director Narinder International said, "We are of one the largest and leading providers of garment manufacturing and knitting machinery in India. We have presence across major manufacturing centers across India like Ahmadabad, Ludhiana, Panipat, Surat and Mumbai. This year also we have brought latest technology machines in flat and computerized flat knitting. These machines are modeled on multi gauge format thereby eliminating the need to install multiple machines and saving much needed capital for the industry. This further helps the entrepreneurs in taking orders as per market demand across different gauge parameters resulting in better return on investment."
Mr. Gurdev Singh of Elex International said, "We are one of the leading manufacturer of power flats and semi jacquard machines in Ludhiana itself and we manufacture the components of these machines ourselves. We are making sincere efforts to endeavour on Make in India campaign and indigenous the industry by patronizing machines in their own country. The new machines being developed keeping in mind the need to minimize energy wastage and increased efficiency."
Mr. Pankaj Kalra of Retech International said, "In India garment manufacturers are looking for heavy duty machines that will do the kind of work that they want done. We have on display 66 inch machines and multi-gauge machines. These machines are among the top machines that are available in the country and they are high-speed. With increased speed than previous versions and updated technology, entrepreneurs will be lead on cost efficiencies and be more competitive and able to price their garments at attractive prices for end consumers."
Mr. Ram Krishan – Chairman GMMSA Expo India 2020 thanked the exhibitors as well as stalwarts from the industry for their continued support to GMMSA Expo India to make this event a dream cum true.