Davinder Mand's new book "Ateet de Warke" released 
Book presents important aspects of life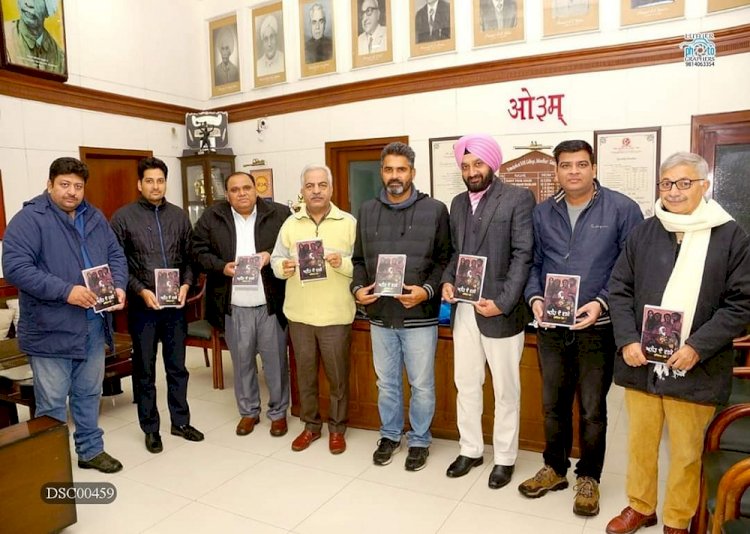 Jalandhar: Mr. Davinder Mand is an Associate Professor in the Punjabi Department of DAV College and has been working as Professor in this college from the last 27 years and nearly two dozen of his books have been published in the field of Punjabi literature. 
On this occasion Principal Dr. S. K. Arora gave his best wishes to Prof. Davinder Mand and praised him while saying that it is a very difficult art to write a book by putting your memories and experiences of life into words but Prof. Davinder Mand has written it beautifully in his book, which is truly admirable. He said that Prof. Mand has given evidence of the significance of literature in today's time. 
Other college Professors were also present on this occasion who gave their views regarding Prof. Mand and his memoir collection. Chairman of Sports Department, Dr. Manu Sood while expressing his thoughts regarding Prof. Davinder Mand's stories said that Prof. Mand present the problems of common people in a very interesting way in his writings. He is a down to earth writer and a very humble person.
Prof. Sukhdev Randhawa of Punjabi Department praised Prof. Mand's collection and also described the importance of relations in general life of Prof. Mand. Prof. Hemant Kumar of Physics Department described Prof. Mand as an excellent storyteller highlighting the problems of the new and old generation. 
Librarian Mr. Naveen Saini shed light upon Mr. Mand's Children Literary books and their critical art. Prof. Raj Kumar said that almost in every newspaper and magazines, Prof. Mand's articles are printed. He also gave his views on his book "Ateet De Warke" and said that in this book Prof. Mand has presented important aspects of life and every common reader should learn from them. Apart from this, Dr. Nishchey Behl, Prof. Saurabh Raj and Prof. Deepak Wadhwan also praised and congratulated Prof. Mand. 
On this occasion Prof. Davinder Mand thanked Principal of the college and other professors who were present. He said that memories / memoirs are an important part of a man's life, from which a human being tries to make every aspect of his future perfect. He has written the same experiences and memories of his life in his book, which he has named "Memoirs". There are many stories and experiences of his memories, like he had the desire to travel in the Shatabdi which is why he has shared his experiences of travelling in Shatabdi . Apart from this, his passion for cricket matches, and the emotions that grew in it, were also introduced. Apart from this, he has cherished the memories of his loved ones who went abroad from Punjab.