Danone India extends its support to villages near Lalru in Punjab through its partnership with Manav Vikas Sansthan
The interventions of this project encompass a blend of activities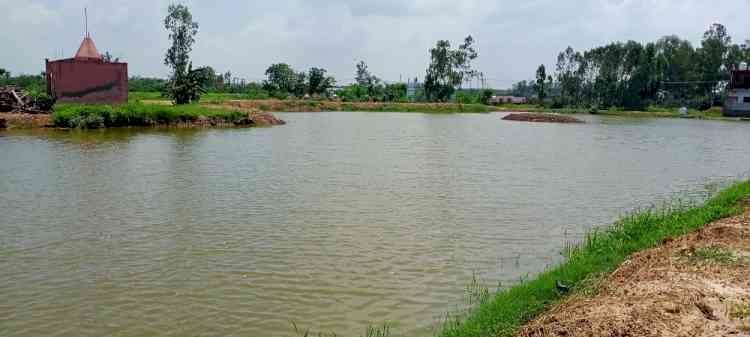 Pond rejuvenation.
Chandigarh: Danone India, a leading global food and Beverage food company with a health focussed portfolio and a pan India presence today announced the progress made in Project DANONE's-Well Being Initiative for Nature and Society (D-Wins). The project is primarily focussed on the theme of Regenerative Agriculture and Water Conservation- two most pressing environmental concerns of today.
The project  is implemented in partnership with local communities and NGO partner Manav Vikas Sansthan  and covers a spectrum of interventions including harvesting rain water through revival in community ponds, creating awareness about sustainable agricultural practices which also includes tree plantation and developing the common land in the village besides supporting the local school in infrastructure development.
The project covers villages near our manufacturing facility in Punjab. It is a low ground water zone as defined by Central Ground Water Board. The ground water levels in the region are consistently going down which shows water shortage in the coming future. The area is also subject to an overuse of chemicals and fertilizers which has led to an increase in soil and water pollution in the surrounding areas.  The conflation of inappropriate agriculture practices and lack of knowledge has resulted in high GHG emissions and polluted water bodies at a large scale.
T Aswin, Factory Director at Danone India said, "Danone has partnered with Manav Vikas Sansthan to address local environmental concerns like unsustainable agricultural practices and depleting ground water levels. This project is a proof of our commitment to our One Planet.One Health frame of action which is anchored in the belief that health of people and planet are interconnected. We believe that the responsibility of corporates goes beyond its factory doors and extends to the local stakeholders as well. We hope that through this project we will be able to forge positive solutions for the local environmental problems".      
Rasam Singh Chandel, CEO, Manav Vikas Sansthan added "The interventions of this project encompass a blend of activities ranging from mobilizing awareness about sustainable agricultural practices to enhancing physical capacities to meet on ground water shortages and green area cultivations. We want to engage local communities as much as possible to instill the sense of ownership among them and benefits that accrue can be sustained over a longer period of time".
Gurwinder Kaur, Sarpanch Sarsini Village said "Project D wins has immensely benefitted our village as it has helped to restore our local water bodies along with galvanizing local youth to take part in conserving and protecting them. The initiative to keep the villagers in step with the regenerative agricultural practices will help us to implement sustainable agriculture practices and eschew environment degradation which is often the result of it".