Damsberg donates 10 oxygen concentrators and 500 oximeters in war against covid-19 for Ludhiana
Devices to be given free of cost to people through humhain app: MLA Kuldeep Singh Vaid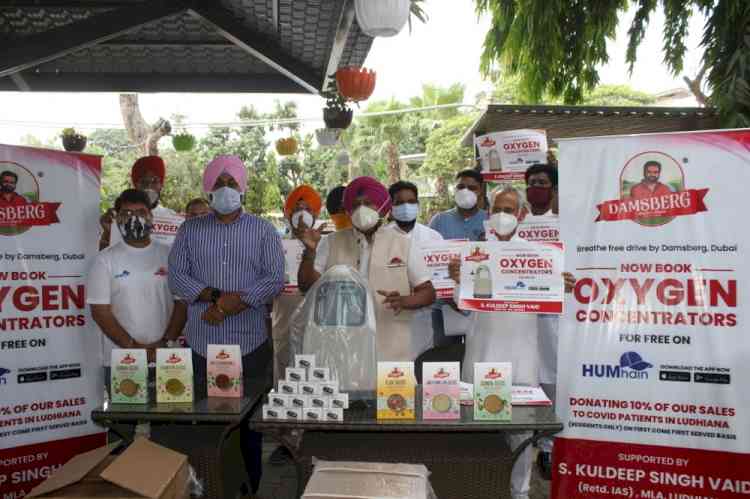 Ludhiana: Coming forward to extend a helping hand to the people of Ludhiana in the battle against the Covid-19 pandemic, a Dubai-based food products company Damsberg Thursday donated 10 oxygen concentrators and 500 oximeters.
MLA Gill Kuldeep Singh Vaid received the concentrators and thanked the company for the help to the Ludhiana people in this hour of crisis.
He said that these oxygen concentrators are of immense help for the patients in home isolation by providing life-saving gas to them. He said that this medical device would help to reduce the burden on the oxygen cylinders as the equipment concentrates oxygen from ambient air by capturing and filtering the air. 
Further, oximeters would help the people to keep a vigil on their saturation level, he added.
He said that these products would be given free of cost to the people of Ludhiana through Humhain mobile app.
He said that NGO representatives would deliver the devices to the applicants at their doorsteps and even they would take back the devices when no in need for the patient.
He added that it is a great service of humanity as in this war against pandemic contribution by every individual is valuable.
He told that with the active support and cooperation of the people of Ludhiana, the war against Covid-19 would be won.  
He also lauded the role being played by NGOs for giving a healing touch to people in this hour of crisis.
On the occasion, MC Councillor Harkarandeep Singh Vaid and others were also present.