Daily income of PRTC and Punjab Roadways now Rs 1.05 crore: Warring
Says income is increasing with each passing day; Punjab can procure new buses easily now & provide employment to thousands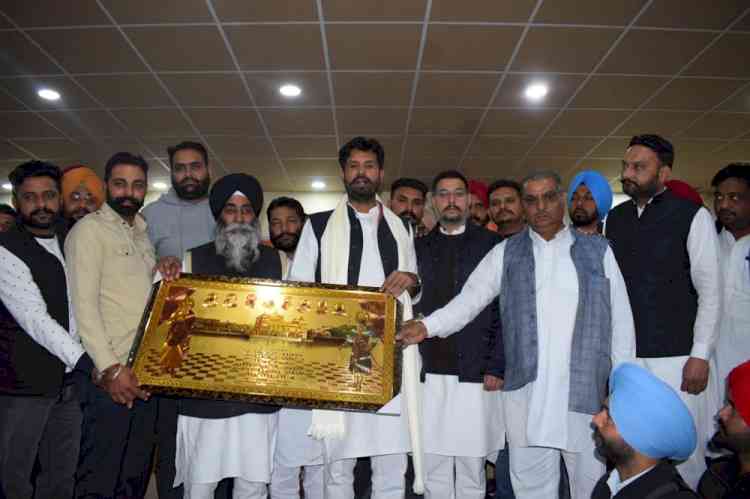 Raikot (Ludhiana), December 2, 2021: Punjab Transport Minister Amarinder Singh Raja Warring today informed that following a crackdown on tax evaders, illegal activities and without permit bus operators, the daily income of PRTC & Punjab Roadways is now Rs 1.05 crore. He said that day is not far when Punjab government would purchase new buses and provide employment to thousands of unemployed youth of our state.
The Cabinet Minister said this while interacting with youth under "Khulli Charcha Warring De Naal" programme at Raikot today. This function was organised by senior youth congress leader Kamil Boparai. DCC Ludhiana (Rural) president Karanjit Singh Soni Galib was also present on the occasion.
Kamil Boparai said that under the visionary leadership of Fatehgarh Sahib MP Dr Amar Singh, development projects worth hundreds of crores are under process in Raikot constituency alone. Raja Warring also praised Kamil Boparai for his hardwork and dedication towards the residents of Raikot constituency.
While addressing the gathering, Amarinder Singh Raja Warring said that ever since the Charanjit Singh Channi led Punjab government was formed in the state, it has been providing free, fair & transparent governance to its residents. He said that several pro-people measures in the forms of welfare schemes and subsidies have been provided. He assured that several issues directly related to common man have been resolved while many more are under consideration. "But i assure you all that whatever decision the state government takes, it would be taken in the interest of state and its residents," he said.
While taking jibe at former CM Capt Amarinder Singh and SAD president Sukhbir Badal, Warring alleged that the two were hand in glove. "And both of them sold interests of the state to BJP," he said while adding that they had been raising this issue within the party platform for a long time.
Alleging a 'scam' worth 'Rs 6,600 crore' in the state's transport department for 14 and half years (a decade of SAD rule and four and a half years of Congress government led by former CM Capt Amarinder Singh), Punjab Transport Minister Amrinder Singh Raja Warring said that it would be thoroughly investigated by forming a Special Investigation Team and every person found guilty, will not be spared at any cost.
While elaborating on the daily increased income of PRTC and Punjab Roadways, the cabinet minister said that with a daily income of Rs 1.05 crore, state can purchase around 90 buses a month (each bus costing around Rs 27 lakh), around 1000 buses yearly and in five years, around 5500 new buses can be bought with this profit. "This means the state transport department alone can provide direct employment to atleast 12000 youth," he said.
He further said: "The order passed in 2012 by Punjab and Haryana High Court Justice Surya Kant against illegal extension in multiple permits was not implemented properly…now, we have implemented this decision in toto and cancelled the 680 multiple permits of illegal extension of more than 1 lakh km." He stressed that if the illegal extension of permits had been revoked during the period of 2012 to 2021, the amount of Rs 1,380 crore for 3,285 days of nine years (Rs 42 lakh per day) would have gone to the state exchequer, which could have been spent on public welfare."
"If Rs 6,600 crore (Rs 5,220 crore + Rs 1,380 crore) had gone to the state exchequer, 24,000 new buses could have been procured and 50,000 drivers-conductors and other staff could have been recruited for these buses and two new buses could have been run from each village of the state," he added.