Cycle rally organized with slogan 'Ride for Clean Air'
First cycle rally on the theme of environment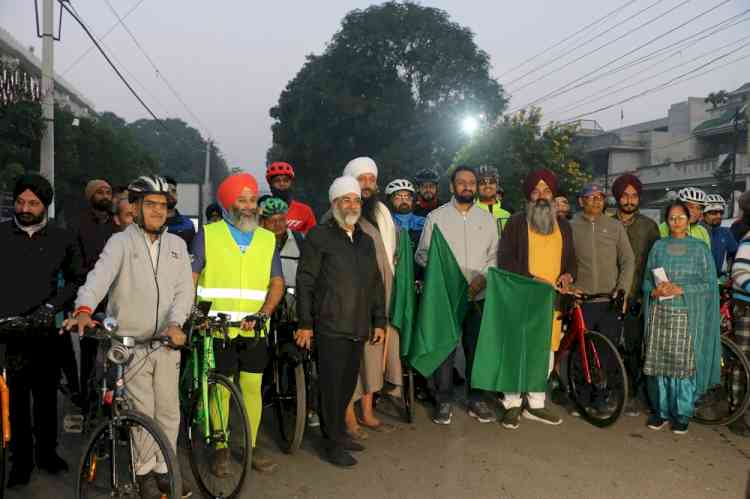 Ludhiana, November 20, 2022: With the slogan 'Ride for Clean Air', a cycle rally was organized by 'Soch', an organization working for the environment, in association with Ludhiana Peddlers Club, which was flagged off by Sant Baba Gurmeet Singh and eminent Punjabi  artist Malkit Roni at Gurudwara Sri Guru Singh Sabha, Sarabha Nagar. This was the first time that a cycle rally has been organized to spread awareness about the environment.
The cycle rally was open to all and the participants were told about the importance of trees and fauna and were taken to Gurdwara Sri Fulahi Sahib to explain the history of the tree located there.  The rally started from Gurdwara Sahib, Sarabha Nagar, passing through Thakkarwal, Dhandhara, Gurdwara Sri Fulahi Sahib and culminated at Guru Nanak Dev Engineering College.
A seminar is being organized by the organization on November 23 at Guru Nanak Dev Engineering College about environmental degradation and its solutions, in which many industrialists, environment experts, Pollution Control Board, Punjabi University Patiala and GNE representatives will participate.  While a fair is also being organized in the premises of this college on 25th November.
On this occasion, head of 'Soch' organization Balwinder Singh Lakhowali and secretary Dr. Brijmohan Bhardwaj told that the main objective of this cycle rally was to make people aware about the environment.  This was the first part of his program while the main program will be held on November 25 at Guru Nanak Dev Engineering College.  Through this rally, we wanted to contact people belonging to every section and we have also been successful. A large number of people have become a part of the cycle rally.
He told that our aim is to inspire people to contribute to the care of the environment.  For the purpose of creating awareness towards handling the environment, during the fair being organized at Guru Nanak Dev Engineering College on November 25, stalls will be set up by different organizations and during this time people reaching there will be shown the importance of environmental protection through technical expert models.  
Patron Saint Baba Gurmeet Singh and District Coordinator Amanjit Kaur said that through this program, people will be told about the importance of pure water, pure food and the methods of growing vegetables on the roofs of houses and their importance etc.  We have to save the environment for our future generations and it was told during the cycle rally.
Among others, advisor Malkit Roni, eminent philanthropist Ranjodh Singh, Amarjeet Singh, Parminder Singh, Manjit Kaur, Jagatdeep Singh, Rahul Kumar, Charandeep Singh and Vishal Ahluwalia, Munish Sharma, Sarabjit Makkar of Ludhiana Peddlers Club were present on the occasion.