Cyber security conference 
BSE in association with SEBI and Maharashtra Cyber organize event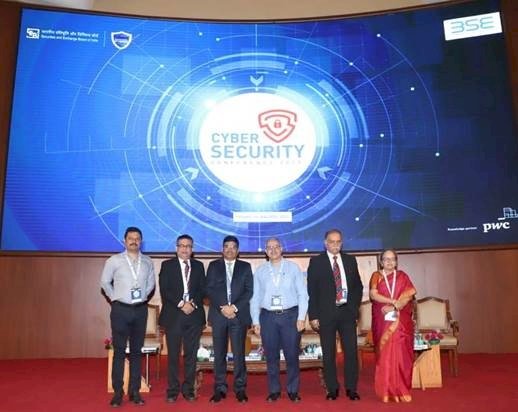 From L to R: Shri Brijesh Singh, Sp. I.G.P, MH – Cyber; Shri Ashishkumar Chauhan, MD CEO, BSE; Shri S K Mohanty, WTM, SEBI; Shri Sanjay Bahl, DG, CERT-IN ; Shri Ajeet Bajpai, Chairman, NCIIPC ; Smt. Rama Vedashree, CEO, DSCI, present at the Cyber Security Conference at BSE.
Mumbai:  The growing cyber footprint in the country has led to an increase in cyberattacks and associated risks. In order to curb the growth of these potential threats as well as to raise awareness of the growing threat of cybercrime, BSE in association with SEBI and Maharashtra Cyber organised 'Cyber Security Conference' on Friday, January 10, 2020 at the BSE International Convention Hall, Mumbai.
 
Shri. Sanjay Bahl, DG, CERT-IN, Shri. Ajeet Bajpai, Chairman, NCIIPC, Shri. Brijesh Singh, IPS, Spl.IGP Cyber, Smt. Rama Vedashree, CEO DSCI were present for the keynote address. Shri. S K Mohanty, Whole-time Member SEBI, was the chief guest for the event.
 
On Dec 3, 2018, SEBI had released Cyber Security & Cyber Resilience framework for Stock Brokers and Depository Participants for which registered brokers were required to comply with the policies to ensure a secure trading ecosystem in terms of people, process and technology. The Cyber Security conference has been held in this regard to help market participants and investors understand how cyber security can help protect market data from theft, spywares, hacks and other unwanted programs.
 
Delivering the welcome speech, Shri. Ashishkumar Chauhan, MD & CEO, BSE said, "The government's focus on Digital India has enormous influence on the way business is done here.  Over the past decade, the financial sector has changed considerably and has been able to make use of new information technologies. While several new technologies such as mobile trading and algorithmic trading have made capital markets faster and cheaper, it has also made it riskier. The capital markets ecosystem include individual investors, common citizens and building a robust cyber infrastructure has become a prerogative for the players in the capital markets. We are extremely thankful to SEBI, especially Shri. Ajay Tyagi, who proactively designed a cyber security framework protecting the interest of investors."
 
The conference saw discussions on various developments and nuances in the area of cyber risk and data privacy for stakeholders in the capital markets. The conference saw speakers and audience members from Securities and Exchange Board of India (SEBI) National Critical Information Infrastructure Protection Centre (NCIIPC), Maharashtra Police (Cyber Cell), National Cyber Security Coordinator (NCSC), Exchanges, Clearing Corporations, Market Infrastructure Institutions (MII), intermediaries like Brokers and Depository participants. Shri. Harish Baijal, DIG Cyber and Shri. Balsingh Rajput, SP Cyber shed light on 'Fighting Cyber Crime and also discussed Cyber Crime Case studies by MH-Cyber with the audience.