cVigil app empowers citizens to report any violation of model code of conduct: DC Vishesh Sarangal
App will help in making elections fairer and transparent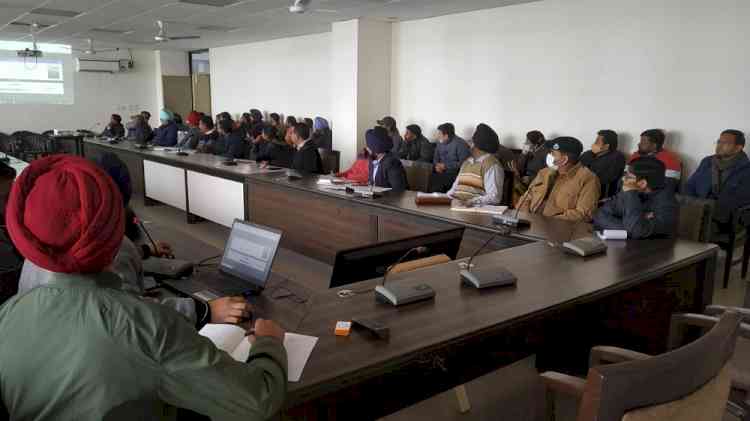 Nawanshahr, December 28, 2021: Deputy Commissioner Vishesh Sarangal on Tuesday said that cVigil app developed by Election Commission of India (ECI) has given an opportunity to the common citizen to report about violation of Model Code of Conduct (MCC).
 
Presiding over a training program for the various poll teams to apprise them about app ahead of upcoming 2022-Assembly Elections, the Deputy Commissioner said that the citizen can supervise the any kind of malpractices being adopted by candidates or political parties to woo the voters during election through the app which will help the administration in ensuring fair and transparent elections.
 
Sarangal said that cVigil is a kind of vigilance by citizen. He said that the app is available on Google Play Store and with the app, citizens can upload photographs and videos about any type of violations of Model Code from the spot with location based details. The moment they upload any picture or video, action  is being initiated immediately by flying squads and Returning Officers later. 
 
The Deputy Commissioner said that as soon as the complaint gets lodged on app, it has to be resolved within 100 minutes. 
 
He said that if the complainant doesn't want to get identified then his credentials have to be kept secret. 
 
Sarangal told that this is a historic initiative of the Election Commission of India aimed at strengthening democracy at grass root level by engaging citizen in curbing the malpractices.  
 
He asked the officers to make sure that the complaints received on the app were disposed at the earliest to make it a huge success.
 
During the training, the experts apprised the poll teams about modalities involved in operating cVigil (Web/ Android Base application). 
 
Prominent amongst present on the occasion included SDM Banga Viraj S Tidke, Election Kanugo Palwinder Singh and others.