Cultural programme by special children
Event organized by Bharat Vikas Parishad Dr Kitchlu Branch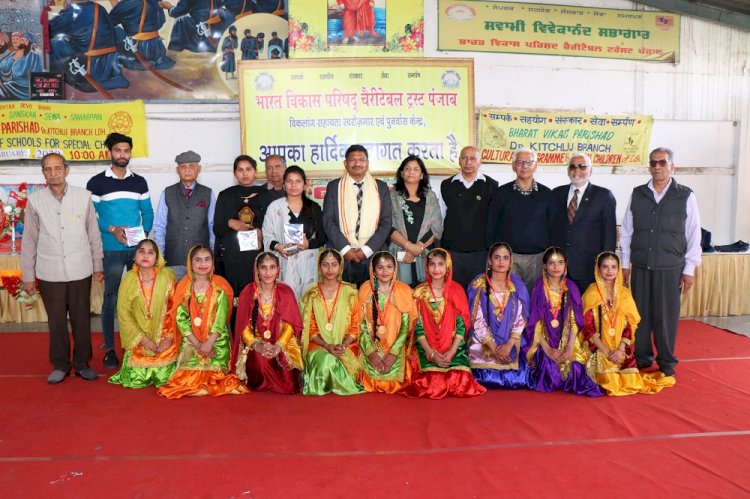 Ludhiana: The talent, energy and hard work of the Special Children and their Teachers was apparently fascinating today in the function on cultural programme by special children of Ludhiana organized by Bharat Vikas Parishad Dr. Kitchlu Branch, at BVP Divyang Sahayata Kender, Rishi Nagar, Ludhiana. Special Children/Students from 16 schools including Ashirwad, VRTC, EK Aas,  Balaji Prem Aashram, Darpan, Ek Paryas, Muskan, BVP VSK, Ek Jot, Vardan, Ek Lakshya, Ek Aas, TAC-RLBS, Khushi, Ek Nayi Umeed & Drishti participated in the function.  A total of 156 Children with disabilities (special abilities) under the supervision of 53 teachers from these schools showed their abilities by presenting dances, skits and songs (Folk/solo). The presentations were very amazing and of a very high quality that it was just a seeing is believing event. The spectators were left enthralled and mesmerized after watching the performance. Six meritorious students and four teachers from these schools, who excelled in their fields at National, State, Distt. or school levels, were honoured at this occasion.
Mrs. Minakshi Garg and Mr. Ashwani Garg of RG Forgings were Chief Guests of the function. They appreciated the hard work of BVP for bringing these special children and their teachers on such a platform and provided them the opportunity to display their talent. Mrs. Meenakshi Sharma, Deputy Director, Special Employment Generation & Training, PWD, Ludhiana and Mr. Sarabjit Singh & Mr. Ashok Sachdeva with a group of four persons were the Guests of Honour. They all extended their patronage for the success of the programme and showered their blessings for welfare and well being of these children and their teachers.   
Mrs. Neelam Gupta, President, BVP Punjab West presided over the function and bestowed her blessings. Mrs. Aruna Puri, General Secretary, BVP Punjab West also graced the occasion.  Everyone, present on the occasion, appreciated the efforts of differently abled children &their teachers. They also congratulated and appreciated Bharat Vikas Parishad for taking up the cause of these children.  
Present on occasion were –Dr. DRC Bakhetia, R.P Gupta, Er BK Bhalla, Dr JR Kaushal, Smt. AlkaMehan, Dr ML Sharma, Mr. Pardeep Malhotra, Subhash Katyal, Mrs S sud, Mrs. Neelam Thapar, Smt. Savita Aggarwal,  Sh. R.K Walia, AK Kapoor, Dr J.R Sharma, B.S Rana, & many others from B.V.P.